The Nigerians in Diaspora Monitoring Group, UK Chapter has condemned the recent wave of protests over President Muhammadu Buhari's continued medical vacation in London.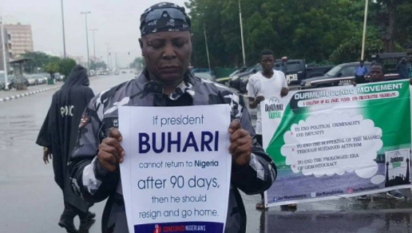 A statement signed by the group's Coordinator, Dr Ibukun Ola, on Wednesday in Abuja said that recent developments posed great danger to Nigeria's stability more than other ongoing existential threats.
Ola said that protests under hashtags like #OurMumuDonDo, #ResumeOrResign, #RecoverAndReform and others were stoking tension.
"This warning became necessary following the ugly incident of Tuesday when the protest was taken to Wuse Market in Abuja, and subsequently resulted in chaos.
" The decision of the protesters to enter a trading space is condemnable since businessmen in this facility bought and owned their stalls and would not allow other people to deprive them of their means of livelihood without repercussions.
"Handymen and truck pushers who rely on smooth operations at the market would similarly not condone any activity that would deprive them of their means of sustenance.''
Ola said that the group was worried at the ethnic and religious coloration of reactions trailing the Wuse Market incident as it could further deepen animosity over what was originally a non-issue.
He urged would be protesters of any cause to keep their activities within the public space to which they were entitled to.
The coordinator said that those who felt their space had been invaded should invite the relevant law enforcement agencies to intervene and not take the law into their hands
"We urge the police and other security agencies not to pander to political correctness but to decisively prosecute those found to have breached the law.
"Besides discouraging trouble makers in Nigeria, it would stop our citizens from trespassing on private and business spaces abroad.
"This is because the #OurMumuDonDo protesters are implementing and contemplating similar protests here in London and other world cities,'' Ola said.