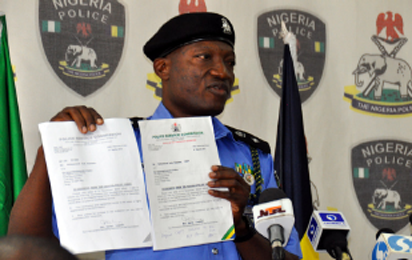 Police Public Relations Officer, CSP Jimoh Moshood addressing pressmen in reaction to allegations by Senator Hamman Isah Misau accusing IGP Ibrahim Idris of diverting about N10 billion internally generated revenue monthly, among other allegations, in Abuja. Photo: Gbemiga Olamikan.
By Kingsley Omonobi & Joseph Erunke
Abuja—The disagreement between the Chairman, Senate Committee on Navy, Senator Hamman Isah Misau, and the Police deepened yesterday, with the Police declaring him wanted for forgery.
The Police had earlier declared the senator a deserter who absconded from duty on September 24, 2010 and asked the Senate Ethics and Privileges Committee to prevail on the senator to make himself available to face the Force disciplinary committee  for acts of serious misconduct and unprofessional doings.
Senator Misau had last Friday accused the Inspector-General of Police, Ibrahim Idris, to account for the N10 billion Police internally generated revenue, which he added amounted to N120 billion annually.
He also accused the Police Service Commission, PSC, of encouraging corruption in the Police Force and vowed never to honour his invitation by the Police.
According to him, the Police cannot be a judge in its own case.
But addressing the media on allegations made by the senator that IGP Ibrahim Idris diverted about N10 billion internally generated revenue of the police and had turned the Nigerian Police Force into a Nupe affair, Force Public Relations Officer, CSP Jimoh Moshood, said:  "As a deserter from the Nigerian Police, the force will definitely take appropriate action in this circumstance against Senator Isah Hamman Misau."
Moshood said the circumstance of a deserter had to do with the Police Act and Regulations, the Criminal and Penal Codes, which stipulate that a deserter was a suspected criminal under the law.
He said:  "All other security agencies in the country are equally implored to assist the Nigeria Police Force in this regard.
"Senator Misau, who is in the police is AP. No 57000, was redeployed to Niger State Police Command on September 24, 2010, and refused to report, consequent upon which he was queried in line with the Public Service Rules, in addition to previous queries and disciplinary processes.
"Aside refusing to go to Niger State, DSP Isah Hamman Misau refused to proceed to the Junior Command Course, JCC, 49/2008 at Staff College, Jos, between January 5, 2009, and June 19, 2009. ''The name of the officer is still on the police staff list. He cannot be retired because his disciplinary case is yet to be dispensed with".
Forged retirement letter
Brandishing the purported retirement letter as claimed by the senator to show he was properly retired, CSP Jimoh said: "He contested the Bauchi Central senatorial election in 2011 general elections under Action Congress of Nigeria and got a suspected forged retirement letter, dated March 5, 2014.
"This means that for four years, he is still a police officer, which made it a criminal act for him to contest election as a police officer in service and this is another fraud the police is investigating against him.
"He also perpetrated an act of impersonation by acknowledging the receipt of the suspected forged retirement letter as a Deputy Commissioner of Police (DCP Hamman Isah) instead of his actual rank of a Deputy Superintendent of Police in the purported fake retirement letter."
On the allegations against IGP
On the allegations against the IGP and certain appointments, the Force PRO said: "It is clearly a false allegation and severe distraction for DSP Isah Hamman or anybody to wrongly, without any proof or evidence, accuse the Inspector General of Police of failure to remit money realised from policemen attached to private citizens and oil companies amounting to about N10 billion monthly IGR, when the truth and facts are that Nigeria Police Force is not a revenue generating agency."
He said the IGP would not compromise his integrity by receiving money before officers are posted. This allegation, according to him,  is also baseless, unfounded and so should be disregarded and discountenanced by the public.
Appointment
On the appointment of Adamawa State Police Commissioner, the FPRO said:  "CP Moses Jitoboh was promoted Commissioner of Police before the current police management team and he is not a Nupe officer but was found to be capable and efficient which was why he was posted as Commissioner of Police, Adamawa State Command.
Moshood said: "Since his posting to Adamawa State, he has brought down crime rate to the barest minimum in the state and there has not been any complaint from the people and government of Adamawa State on his performance.
Hamman is still a police officer
"In conclusion, AP. No 57300, DSP Mohammed Isah Hamman is still a police officer and not regarded as a senator by the Nigeria Police Force. The retirement letter he is parading is a suspected forged document under investigation."
The senator had on Friday addressed the press where he raised series of allegations against both the IGP and Police Service Commission, accusing them of high level corruption.
Senator Misau had asked the IGP to account for the N10 billion monthly internally generated revenue, IGR, which amounts to N120 billion annually.
He had said:  "Let me give you an example of the so many corruption cases that are taking place. More than 10,000 policemen are working with oil companies and every month, the companies are paying money.  Where is the money going?  Is the money going into Federal Government coffers or into some people's pockets.
"We have over 10,000 officers working in banks. Are they paying money to the Federal Government?  Who are they paying the money to?  Where is the money?  We have policemen in thousands working for companies and private individuals.
"Go to the airports and you will see that people of questionable character have policemen attached to them.  Are they paying money to the Federal Government? Why should the Federal Government train a policeman, give him uniform and gun; and then he is passed on to an individual who will not pay anything to the Federal Government? Is that right under President Muhammadu Buhari's administration?
"Last week, an organisation accused the Nigeria Police and others  of bribery amounting to N400 billion.  Am I the person who said it?''
Senator Misau vowed not to honour the Police invitation, saying the Police cannot be a judge in their own case.