…My agenda is to co-operate with governor, not to confront him
…PDP's boast of coming back in 2019 is daydream
BY SIMON EBEGBULEM, BENIN CITY
The leadership change in the Edo House of Assembly last week Monday threw up Hon. Kabiru Adjoto, the member representing Akoko Edo constituency 1, as the new Speaker of the Assembly, after 19 members out of the 24- member House of Assembly anointed him as the new leader. In this interview with Saturday Vanguard, he debunked the insinuation that his emergence was a threat to the Governor Godwin Obaseki led Executive.   He gave reasons why the lawmakers changed their leadership last Monday and assured of his readiness to work with the Executive to deliver the dividends of democracy to the people of the state.
Excerpts:
You are seen as a principled politician who is capable of confronting the executive, what's your take on that?
When a masquerade is dancing very well, you will be very happy. You will stop everything that will not make the masquerade to dance well. That was what we have done as a parliament. The Government of Governor Godwin Obaseki is doing wonderfully well beyond expectation. Talk of    the road construction within Benin and beyond, he has advertised the construction of more than fifty roads across the state.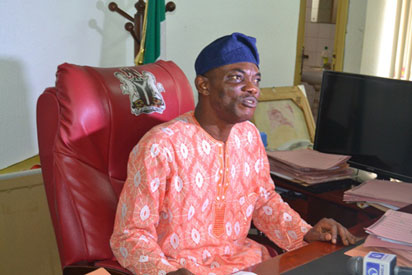 He is equipping our schools, he promised to employ 200,000 Edo youths and as we speak he has employed more than 50,000. Look at his agricultural policies and how he has blocked leakages in government. So, he is a big masquerade who is dancing very well.
As a parliament we are very happy with him and because of this, our relationship with the Executive is going to be that of cooperation and not confrontation. So, as a principled politician, we will assist him with legislation that will help his administration. So, the fear in some quarters that Adjoto is principled and because he is principled he is going to fight the Executive is not true.
The government of Obaseki is working, it is only a stupid person who will want to disturb a government that is delivering the goods to the people. I am leading a parliament that will cooperate with the government to make sure Edo people are happy and better. Our people should pray for us for God's guidance and wisdom so that we can continue to do those things that will positively affect their lives.
It is our hope that in the next few months, Edo people will smile more, because like I said we have a governor that is performing and we have a parliament that is more than ready to support him so that our people will enjoy the dividends of democracy.    By the time you see a new parliament, the way we will conduct ourselves and how we are now going to go about our over sight functions, on your own you will be able to draw a line between us and the former leadership.
You lifted the suspension on the former Speaker, Justin Okonoboh and former Majority Leader, Folly Ogedengbe, why did you not lift that of the Deputy Speaker, Elizabeth Ativie?
In the parliament we follow due process, there are laid down rules that we must follow. If you recall that same day that we changed leadership, I set up a 3-man committee to investigate the former Speaker, former Majority Leader and the former Deputy Speaker. The committee submitted an interim report and in that interim report, the committee recommended that the former Speaker and the former Majority Leader to a very large extent were cooperating with the committee and as a result there was no need to continue to place them on suspension. The matter was hotly debated and at the end of the day we resolved that they should be recalled.
As for the former Deputy Speaker and the PDP member, Igbass, who were suspended,    the committee said they were not cooperating with them, and that recalling them will cause more disaffection in the House. We had a situation where the former Deputy Speaker refused to return her official vehicles. But that is being handled by the police so I will not speak much on it now. However, the suspension of the former Deputy Speaker and the PDP member, Igbass was equally put to vote and the House unanimously agreed that we should not lift the suspension slammed on the two members.
Are you not worried that your emergence has distorted the political tripod in the state?
We are in a democracy and I will not like to comment much on that. The parliament is an independent arm of government and a decision had been taken by the majority of the members of the parliament for a change in leadership. 19 members came together that I should be their Speaker and today I am the Speaker. In a democracy there is room for discussions, so we are still talking. If at the end of the day, majority of our members say Adjoto should step down, I have no option than to step down. But as we stand today, majority said I should remain as their Speaker and in a democracy you must respect the wish of the majority.
What is your opinion on granting autonomy to State Houses of Assembly and scrapping State Independent Electoral Commissions
Autonomy to parliament is good for the states, in fact some states are already practicing it, like Lagos. So there is nothing wrong with it because it will further deepen the practice of separation of powers between the Executive, Legislature and the Judiciary. Democracy cannot survive if we don't practice separation of powers, so if there is such a call for autonomy of the legislature, I don't see anything wrong with it.
And on the issue of the plans to scrap state Independent Electoral Commissions, so that the INEC will now conduct Local Government elections, for me it is not a healthy development. The issue of the conduct of Local Government elections should be left in the hands of the SIECs not INEC, INEC has a lot to cope with,    you don't need to add to their problem. They conduct House of Assembly, National Assembly, Governorship and presidential elections, so you don't need to add Local Government election.
PDP seems to have regrouped, do you see them as threat to your party, the APC in 2019
PDP members are known for talking, they talk more than action. The PDP's 16 years rule brought us to where we are today in Nigeria. The umbrella is in shreds and can no longer protect
Nigerians from the hot sun and the rain. Boasting that they will come back in 2019 is a dream that can never come through. How are they going to do it? It is like a dead man saying that he will come back to life, that is a tall dream. For instance, in Edo state here, they have turned opposition politics to a circuit show and that does not translate to electoral victory.
Sometimes I listen to their criticisms but I have not seen them proffer any solution and that is laughable. I thank God President Buhari is back despite all the evil they wished him. You will see how the APC led government is going to transform the nation before 2019 and I can assure you there will be no PDP anywhere.
As a third term lawmaker in the House, how do you feel being elected as Speaker?
I feel good and I equally feel challenged because to be a leader calls for a lot of responsibilities. One should be ready to discharge those responsibilities and    by God's grace we will face the challenge head on to deliver the dividends of democracy to our people. We are prepared as a parliament more than ever before to take the business of legislation seriously.
We are prepared to legislate for more schools, more hospitals, more roads and as a parliament we are equally prepared to work together with the executive to move the state forward. Yes, I am a third term member of the House, but one thing is to be a third timer and another thing is to have the experience. We thank God that God has blessed us with a lot of experience, we will deploy that in the area of law making and legislation, in the area of over sight, and inter relationship between the parliament and the Executive as well as the judiciary.