Factional president of the Nigeria Basketball Federation, NBBF, Tijjani Umar has assured basketball stakeholders that normalcy will return to the sport before the November 30 deadline issued by  basketball's world governing body, FIBA.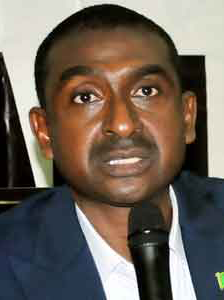 Speaking shortly after the federation's board meeting in Lagos penultimate weekend, Umar declared the readiness of his group to exploit all avenues for peace and reconciliation in the present imbroglio engulfing the country's basketball administration.
While commending the leadership of FIBA for making a bold move to ensure a lasting peace in Nigerian basketball, Umar stressed that the reconciliation demanded from the NBBF factions by FIBA as presented in their letter written to the two boards was the only way forward.
"I believe so much that the letter to the two groups is just the best and the only way to resolve the crisis and I am very happy that before the end of November, normalcy will return to Nigerian basketball."     "We are ready to honour the invitation from the Nigeria Olympic Committee, NOC,  that FIBA has appointed as the only body that would ensure reconciliation in Nigerian basketball. We shall submit to all measures that would be employed by the Olympic Committee towards achieving peace.
"Our interest bothers on the players, officials and the general basketball stakeholders who make a living from basketball. We have resolved in our board meeting to do everything possible to ensure the game is developed in Nigeria both at the local and international levels.