By Fr. John Damian Adizie, OCD
NIGERIA is among the few nations in the world where academic calendar is often disrupted at any time either because of strike, riot or some unnecessary interference by the powers that be.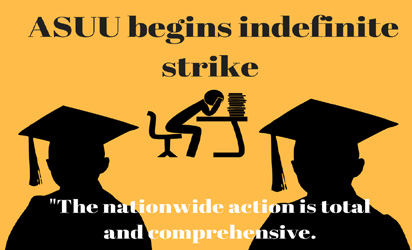 The most uncertain thing in Nigeria is the duration it takes a student to complete an ordinary degree programme. That is one of the reasons why most rich men send their children abroad, where they are sure of uninterrupted academic calendar. The poor ones have no choice!
The fact that other nations are not embarking on prolonged strikes does not mean they don't have issues with their government but they have a better and more civilized ways of resolving their disputes. They also have a listening governments.
Unfortunately, most Nigerian leaders are not just deaf to strike and other forms of agitations, their conscience seems to be completely dead to people's plight.
A nation with deaf and insensitive leaders is a dead nation; whereas a nation with self-centered and insensitive lecturers is a foolish nation. While briefing journalists on the indefinite strike embarked upon from August 13, 2017, the National President of ASUU, Prof. Biodun Ogunyemi, declared:
"Based on a nationwide consultat-ion with our members, an emerg-ency meeting of the National Executive Council (NEC) of ASUU rose on August 12, 2017 with a resolution to embark on an indefinite strike action starting from Sunday, August 13, 2017."
The ASUU president further enumerates: "The nationwide action is total and comprehensive. During the strike there shall be no teaching, no examination and no attendance of statutory meetings of any kind in any of our branch-es."
Unfortunately, none of these sanctions have any impact on the government. The students are the ones taking lectures and exam-inations, whereas lecturers are the ones attending the statutory meetings. The government must have failed but ASUU should not fail – the students.
There are so many agitations going on right now in Nigeria. Some Igbo youths are threatening to secede from Nigeria, the Arewa youths have issued a quit notice, threatening the Igbos to leave the Northern part of Nigeria before October 1. The Avengers are still avenging, Boko Haram are still throwing their bombs.
The "ResumeOrResign" camp-aign is still gathering momentum. The government is finding it difficult to address these agita-tions. Embarking on indefinite strike will only worsen the sit-uation in Nigeria. It will give the students the opportunity to join any of these existing pressure groups.
Worse still they may even form their own pressure groups. From past experiences, I doubt if the strike will yield the expected fruits. Reacting on ASUU's decision, Prof. Sunny Edeko, the Dean of Faculty of Law at Ambrose Alli University, declared that strike is an evil from the pit of hell.
The Trade Disputes Act Section 43 (1) (a) declares that where any worker takes part in a strike, he shall not be entitled to any wages or other remuneration for the period of the strike, and any such period shall not count for the purpose of reckoning the period of continuous employment and all rights dependent on continuity of employment shall be prejudicially affected accordingly.
For Prof. Edeko, therefore, to embark on a lengthy strike with pay is repugnant to conscience. The Christian Bible acknowledg-es that: "The laborer deserves his wages" (I Timothy 5:18). However, St. Paul, in II Thessalonians 3:10 declares: "If anyone will not work, neither shall he eat."
Although workers are entitled to their wages, they have to work hard for it. According to Frederick Douglass, "People might not get all that they work for in this world, but they must certainly work for all that they get."
The idea of paying workers even when they are on strike encoura-ges prolonged strike. As a matter of fact, strike favours no one, not even the lecturers. Prof. Edeko observed, "There are lecturers I know whose quest for becoming associate professors this year is in jeopardy because of the strike.
They may not be able to defend their Ph.D. thesis on time to be considered for assessment. This is self-inflicted damage." Certainly, it makes no sense! Above all, when two elephants fight it is always the grass—the students—that suffers. Incidentally, these innocent and vulnerable students have paid their school fees.
They deserve their lectures and examinations. Any attempt to disrupt their studies is a breach of their fundamental rights. In as much as we frown at government's greed and their infidelity to the plight of ASUU, we are saying no to indefinite strike! There should be a more civilized way of resolving the problem between the government and ASUU—two wrongs can never make a right!