By Gabriel Olawale
Terpase Akishi, 16, was not dumb neither was he born sad, but his present predicament has make life really difficult for him. While his peers are going to school or play around he stays in-door shedding tears.
Akishi's travails began  at the age of four with a small spot in the mouth.  Ande Terumbul, his brother said that at the beginning it was not seen as serious as it didn't prevent him from completing his primary school education.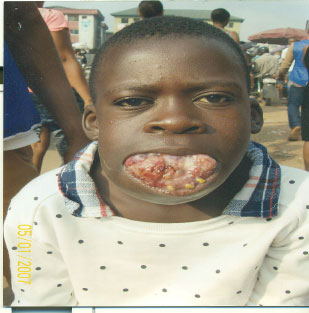 "By the time he was 10, it had grown very big and affected his teeth. We tried several traditional and medical treatments it didn't work and the more he grows the more the jaw expands and scatters the teeth.
Terumbul explained that when there was no improvement, he decided to bring him down to Lagos from Benue State.
Despite his academic brilliance, Akishi is unable to complete  his education and feeding is a difficult task.
"He ought to be in SSS 2 now but his predicament is trying to cut his dream short. The situation has degenerated to the extent that he cannot eat solid food.
"He uses two fingers to put little quantity of food in his mouth and the things he can eat are noodles and bread soaked in tea.
"He cannot play with his mates because he looks scary and they feel repulsed. He can't move freely and have to covers his mouth with handkerchiefs."
Seeking assistance from Nigerians Terumbul said just N600,000 had been realised from the N4.1 million requested for corrctive surgery.
A  medical report signed by the Medical Director, Adeeh Davies Hospital and Scan Centre, Dr. K.O. Odunayo revealed that there was an expansile lytic lesion of the lower jaw which involves the region of the mandibular isthmus.
He noted: "Tomographic features are highly suggestive of malignant ameloblastoma."
If you are touched by Akishi plight, kindly send your donation to Terpase Daniel Akishi, Fidelity Bank, 6040443239 or contact 07018486633.