By Chris Onuoha
Akachi Adimora-Ezeigbo, married to Professor Chris Ezeigbo with three children, has been an icon of literary development in Nigeria for decades. She is a lecturer, writer, novelist, critic, essayist, journalist, and administrator. She has taught in the Department of English, University of Lagos since 1981 and was appointed a professor of English in 1999. She headed the Department in 1997 and 1998, and intermittently till 2009. In 2015, she retired from active teaching that spanned 30 years at Unilag and relocated to Federal University Ndufu-Alike, Ikwo, Ebonyi State, in South-Eastern Nigeria, where she has continued to tutor students and mentor younger lecturers.
A book on her biography that mirrors life and events around her written by Ezechi Onyerionwu, was presented to the public last week at University of Lagos. In a chat with Weekend Woman, she reminisces and extols the effort of the author who surprised her with the depth of his knowledge of her. Excerpts: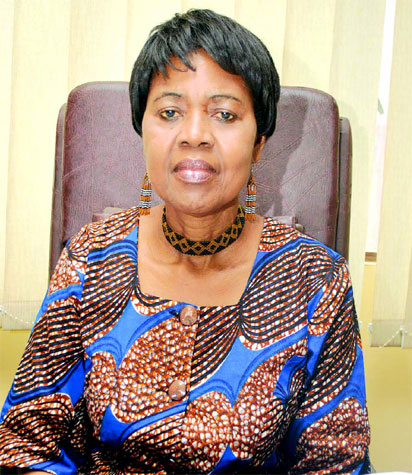 How can you describe this masterpiece of you written by someone other than you?
The book is about my biography written by Ezechi Onyerionwu, a lecturer in Abia State Polytechnic, Aba. The title of the book is 'literature and life: Akachi Adimora-Ezigbo. It is about me, my childhood, my works, my experience as a lecturer and even my experience during the civil war.
The amazing thing about the biography was that the writer was able to dub tell my life into the literary development of Nigeria. In the book, you will find some people like Achebe, Soyinka and other African literature writers mentioned.
I think the biography speaks about those who are working on my works and perhaps, people will find it so useful because it tells so much about the history of Nigeria using me as model.
He started this book in 2008 and just published it last year 2016. Luckily, he interviewed my mum in 2008 when he started the project before she died in 2015. The book took quite some time to write but it came out very well.
What can you pick as an interesting thing written in this biography?
The way he skillfully, masterfully weaves a story about my life into the current development of African literature from the period of Achebe and others is so unique. It is not like he has written a story of my life, my childhood and experiences and all the general run about biographies. It is not that.
He is now like kind of woven history, cultural development, my experience and that of other people. You can see in the book, the literary history of African literature, history of the Nigerian civil war, all of them wrapped into this biography. It is amazing. It is a big book about 400 pages published in hard back casing and soft paper back cover.
What informed his decision to write about you?
He approached me and suggested to me that he wanted to write about me and my works. When he asked me, I wasn't really enthusiastic because I also wanted to write about my biography. I do not have doubt about his capability though, because as a columnist with Guardian newspapers, he has published some articles and reviews of my work before.
Besides, he has done other writers' biographies such as Wole Soyinka, Chukwuemeka Ike and others. He is a very good biographer. I approved of him to go ahead. It took him so much time and he did it very thoroughly. In the book, you will see all the comments by other scholars and some Professors who made comments on the book.
You said he did a thorough job. Will you still write about yourself and experiences as recorded by this author?
For now, I am not thinking of writing my autobiography again because that book covers me in every aspect but maybe later, if God keeps me alive, I will write about my life and experiences that are coming after this biography. You know, Soyinka wrote Ake, a book about his life and after that he wrote something more about subsequent experiences of his life. If I should write now, definitely it will be a repetition because the writer did a thorough job about me.
As a retired don from the University of Lagos and with this subsequent publication of your biography, will that make you relax as an author?
No! It will not make me relax because during the book reading session, I read from what I have been doing in recent times. There are so many things to do now and luckily for me, I am in a place so serene I might squeeze out time to do more works.
I am not completely out of school because I still contribute my quota nurturing students at Ebonyi State University, Abakaliki. I am concentrating on short stories and poetry. I also want to write more of children's books. Hopefully, I will collect all the poems I am writing in one volume for publication.
You did not read from your biography during the book reading session, why?
The biography book launch was moderated by Prof. Chidi Maduagwu who presented the work to the public.   For me, what I read are works I did before and it was for a reason. I have a long poem of six pages which I dedicated to late Buchi Emecheta that is yet unpublished. I also read from another one I wrote for late Kofi Awunor. Then I read a short story I wrote a few months ago about my experience with the police force in Abakaliki titled; "Mr. President's Change Agents". Others were books I published online. After that, my biography was introduced.
What experiences are we to get from this publication?
I have always advised many universities to introduce biographical writing as a course in the English Department to teach these young students to write biographies of notable people in this country. One of the things I have learnt and which I also taught so many other people is to read people's biography. I have read biographies of many influential people in the world.
It is very enlightening. I want readers who love reading a lot to add reading people's biography. When you study someone else's life, you learn about life. I want to encourage young people not to limit themselves in only reading textbooks to pass exams. In spare time, look for literary books like biographies to read. Biography forms part of literary works and should be incorporated in the books we teach students, not only fiction or drama or poetry.
You seem to have more works online than physical prints.
For now, I just decided to stop publishing physical books. Most of my works are online and in journals. I have a journal that is talking about most recent African literature today, which will be coming out in November. Also, I contributed to a published online poetry collection edited by one Professor from Israel who has done the collection based on these topics; "violence, terrorism and world peace".
The poem I sent was one written on late Kofi Awunor, the great writer from Ghana who died during the Al-Shabab bombing in Nairobi, Kenya. It was chosen among others. Her idea is to use poetry to advocate for peace worldwide. Contributors to this work are poets from all over the world whose poems were selected from numerous submissions.
I have also written about the late Abiola Irele, a fine literary giant from Harvard who died recently in US and a book on late Buchi Emecheta that will be coming out soon in a volume to be published in the UK.  Another new project I am doing is an Igbo novel. Now that government is emphasizing on use of mother tongue in our academic system, it will be a sure material in our secondary schools. Even, Chinua Achebe had advised writers to write on our mother tongue and let books come out consistently in Igbo language. He had emphasized that Igbo authors should write in any dialect of their choice but must let Igbo novels come out consistently.
What's life like after retirement?
Well, I am still useful and relevant to the academic community. For over 30 years I taught in Unilag, it was serious work as I have to stand sometimes almost the whole day teaching over 300 students in one class plus other academic works. But now that I am retired, although I am in a more serene environment, it's less stressful because I teach less than 30 students in a class because of the location.
I want to advise Nigerian students to work hard and in spite of our generation and those before us who has done something good for the country, the young people should not emulate what is happening in the country today. They should have a new mind set. They should even insist that elders behave well. They should work hard to maintain their integrity and look forward to changing this country from where it is now. No crime, be determined to take over from us.