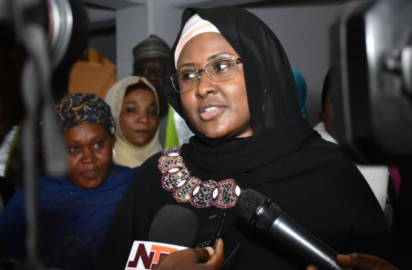 Wife of the President, Mrs Aisha Buhari, addressing State House Correspondents shortly after her arrival in Abuja on Tuesday (6/6/17) from United Kingdom where she went to visit her husband, who is on medical leave in the British capital. She conveyed the appreciation of President Muhammadu Buhari to Nigerians over their constant prayers and said he would soon return to the country.
By Johnbosco Agbakwuru
ABUJA – FIRST Lady, Mrs. Aisha Buhari, on Sunday went back to London, the United States capital, to join her husband, President Muhammadu Buhari who has been on medical vacation since 7th May

Mrs. Buhari had returned to Nigeriaearly hours of last week's Thursday and preceded to Owerri, the Imo State capital, where she was received by the wife of Imo State Governor, Nneoma Nkechi Rochas Okorocha.
Confirming her trip back to London yesterday, Special Assistant to the First Lady, Media and Publicity, Mrs. Adebisi Olumide-Ajayi, said the First Lady returned to London on Sunday but added that there was no information about her return date.
The trip marked the third time Mrs. Buhari would be visiting her husband in London, since May 7, when the president left the country on an indefinite medical vacation.
She had first left the country for London on May 31 and returned on June 6.
On July 2, three weeks later, she returned to London and did not come back until August 3, only to return on August 6.