By Emeka Obasi
My respect for Gen. Abdusalami Abubakar comes majorly from his wife, Justice Fati  Lami Abubakar. She remains our most educated First Lady who never put on airs and till date remains so even as the mother of Dr. Amina  Bello, wife of the Niger State governor.
Justice Abubakar was a solicitor general, permanent secretary, member of the Constituent Assembly in 1988 as nominated and Chief Judge of Niger State. An old girl of both Queen Elizabeth School, Ilorin and Federal Government College, Sokoto, she is an alumnus of the University Ife ( before the name change ).
Gen.Abubakar was in Lagos recently and opened up on the Civil War. He said: "During the war, we were fighting fellow citizens. In the sector where I fought, unfortunately, I fought against a colleague who was my room  mate and who trained alongside me. The war brought me face to face with this fellow in the battle ground and I had to protect his life."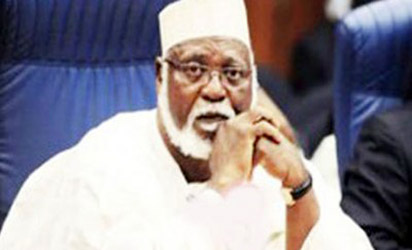 Without any regrets, the former head of State added: "There was no fight between this individual and I. War was brought to us by circumstances  and we found ourselves facing each other. By protecting him, the action protected my troops and his people because we came to an understanding and there was a ceasefire."
I guess the general was referring to Major Ozoemena Igweze. I am not so sure now. As members of Nigeria Military College (NMTC) Course Six,from December 10, 1962, their mates included Ibrahim Babangida,  Mohammed Magoro, Gado Nasko, Garba Duba, Sani Bello, Sani Sami, Mamman Vatsa, Paul Omu, Raphael Iluyomade, Ted Hamman and Sani Abacha.
It is in that same spirit that I  want to task him with the job of restoring calm to frayed nerves in the South-East. And the only  other person that can do this with him, is Col. Sani Bello, his friend and father of Governor Abubakar Sani Bello. I have my reason  for sending them to Igboland.
As Head of State especially following the death of Chief Moshood Abiola in custody,  Gen. Abubakar and his friends pacified the Yoruba by taking General Olusegun Obasanjo, from prison to the Presidency. In the process, Dr. Alex Ekwueme, one of the founders of the Peoples Democratic Party  (PDP ),was dribbled out of reckoning.
It was a plot against Ekwueme. Gen. Yakubu Danjuma boasted openly that if Obasanjo did not win he (TY) would go on exile. Everything was done to produce a Yoruba President as the two major parties fielded Presidential candidates from the South-West. Nigeria was restored, at least after the injustice meted to Abiola.
Under the Umaru Yar'Adua presidency, there emerged what became Doctrine of Necessity, in order to pave way for an Ijaw man, Dr . Goodluck Jonathan,to step in as Acting President. He eventually became President when Yar'Adua died in May 2010. The power brokers only did that to pacify the Niger Delta groups.
Jonathan saw the handwriting on the wall and saved Nigeria another war in 2015. If General Muhammadu Buhari did not become President there would have been crisis induced by the North. Boko Haram did not just emerge.
There are prominent men and women who are willing to push the Igbo cause forward. General Abubakar should get in touch with men like Chief Ebitu Ukiwe, Chief Arthur Mbanefo, Dr. Walter Ofonagoro, Dr. Chukwuemeka Ezeife, Mr.Olisa Agbakoba and Pan Igbo groups like Ohaneze, Aka Ikenga and Igbo Youths Congress among many others.
And the best way to appease these agitators is to show indeed that development gets to all parts of the country equitably. I may not be as hawkish as the younger ones but I know we have had enough of injustice in the country. And I believe Gen. Abubakar knows this as much as many of us.
I have chosen Col. Bello because the Igbo hold him in high esteem. In1966 as General Johnson Aguiyi-Ironsi's  Army ADC, he saved his Air Force colleague, Capt.Andrew Nwankwo, from imminent death during the Counter coup that consumed the Head of State and Col. Adekunle Fajuyi  in Ibadan.
Gen. Abubakar should work out a formula that will not only guarantee that an Igbo man becomes President in 2023, he should seal a deal that must stop the  deliberate underdevelopment of the South-East. And this new deal he should sell to other groups. It is doable. He did it for the Yoruba in 1999.
What Abubakar did during the war was common. Col.Godwin Alabi-Isama and Simeon Uwakwe,  of NMTC Course One, did it in Arochukwu. In fact, it took the intervention of  Biafra Army Chief Alex Madiebo to check the Commander of his Special Task Force (STF) whose other buddies included Yakubu Danjuma, Ben Gbulie, Alani Akinrinade and  Pius  Eromobor.
When Col. David Ejoor escaped on his famous bicycle to Lagos from Benin, the Biafrans captured his ADC, Lt. Peter Ademokhai. He was taken to their School of Infantry as an Instructor. There he met Peter Odili's aunt who later became his wife. Odili remained a Training Instructor.
For Maj. T. I. Atumaka of Biafra and his Nigerian counterpart,Lt. Col. E.A. Utuk, the fact that they were commissioned in June 1963 after training in the United States alongside  Isa Bukar, Yemi Alabi, William Walbe,  G.N. Okonkwo and Nuhu Nathan did not matter as their soldiers fought in Owerri. Atumaka lost his life.
Lt. Commander Akin Aduwo commanded  NNS Ogoja. His mate, Lt. Commander P.J. Odu manned BNS Biafra. They fought  a deadly sea battle. Aduwo watched as his friend moved out of his ship and disappeared into the ocean. Captain Austine Okpe, the Chief Pilot of the Biafra Airforce saw war with his fellow Nigeria Airforce 1963 pioneers, Yisa Doko, Usman Jibrin and Ibrahim Alfa.