No fewer than 200 female students from various secondary schools across the state have been admitted into the first batch of Intensive Solar Energy Training, organised by the office of the wife of Ondo State Governor, Mrs Betty Akeredolu in collaboration with   a Non-governmental Organisation Ashadam Solar Initiative.
The week long programme held at Elizade University, Ilara-Mokin and tagged "Solar 4girls Naija" was aimed towards enhancing the beneficiaries on the learning of energy management and exposed them to green energy source as well as basic solar energy electricity.
Other benefits of the programme were building of solar panel, life enhancement skills, sanitation and menstrual hygiene, climatic change awareness, breast health awareness as well as fitness and aerobics among others.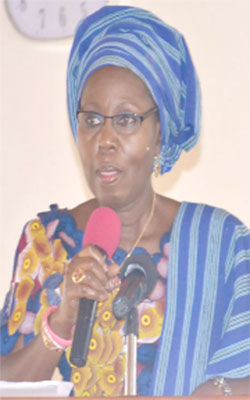 In her keynote address while declaring the programme open, the wife of the Ondo State Governor, Mrs Betty Anyawu Akeredolu, who is also the initiator of the programme,   said the training was necessary in view of the incessant power failure challenge in the country.
According to her "Very soon this oil will finish, and even as we have it in abundance,   we are still in darkness, no electricity  and that was what got me thinking and we arrived at this programme" she stated.
While congratulating the beneficiaries, Mrs Akeredolu advised people to leave their comfort zone whenever they identified any challenge and get into the solution arena in order to proffer enduring solution.
Similarly, in her remarks, the Chief Operating Officer (COO) of Ashadam Solar initiative, Mrs Damilola Ashaleye, said the choice of girls who benefited from the programme was to encourage female participation in the solar energy sector and to attain the much needed gender equality in the sector.
The COO   further said solution to climate change is renewable energy and assured that the trainees would be able to build Solar base devices at the end of the training.
The event was attended by the Secretary to the State Government, Hon. Ifedayo Abegunde,    the chief of staff, Chief Ale, some commissioners designates,   special Advisers to the governor, staff and management of Elizade University, parents of the trainees among others.
PHOTO ATTACHED : Arabinrin Betty Akeredolu (middle) with participants