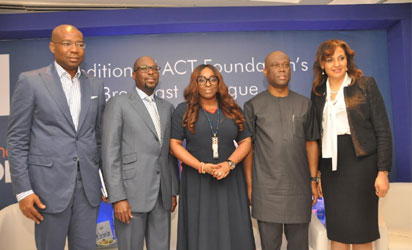 From L-R: Keynote speaker, Aigboje Aig-Imoukhuede; Chairman, ACT Foundation, Tunde Folawiyo CEO, ACT Foundation, Osayi Alile; MD/CEO, Access Bank, Herbert Wigwe and ACT Foundation Board Member, Clare Omatseye at the maiden edition of ACT Foundation's breakfast dialogue on Friday, July , 2017.
President of the Nigerian Stock Exchange (NSE) Aigboje Aig-Imoukhuede has called for unity and integration in the social sector, maintaining that such will make for an improved humanity.
Aigboje gave the advise while presenting a keynote address at the just concluded ACT Foundation breakfast dialogue, held in Lagos.
Speaking on the theme "Connecting the Dots: Partnerships that work," Aigboje noted that all humans have an innate desire to do good to improve humanity. He urged Non Governmental Organizations to form a united front to promote oneness and harness growth.
"In 2015, America donated 2.1 percent of its Gross Domestic Product (GDP) which is over $300 billion to charitable organisations because of the structure and leadership in the system. This is not because Americans are more charitable but because of the structure they have." He said.
"Leadership is required for an organization or society to develop and the social sector is not an exception. They must have a structure as well as strong governance for the sector to grow and attract funds." Aigboje added.
He also harped on the fiduciary responsibility of the third sector to the society in order to promote accountability as well as attract support, capacity building and funding from the public and private sectors.
He noted that NGOs must be excellent as they connect the dots in all spheres of their business from recruitment to funding, implementation and reportage.
The breakfast dialogue also hosted a panel discussion comprising veterans in the third sector such as Country Director, International Finance Corporation (IFC), Eme Essien; Regional Director, West Africa, Ford Foundation, Innocent Chukwuma; Country Director, ONE Campaign, Serah Makka-Ugbabe; Executive Director, The Initiative for Equal Rights, Olumide Makanjuola; Senior Special Assistant to the President on Industry, Trade and Investment, Jumoke Oduwole; and Ini Abimbola, CEO, ThistlePraxis.
The discussant addressed issues such as the scalability and sustainability of projects, funding, self regulation, partnership and collaboration as well as leadership in the social sector.
Also speaking at the event was the Chairman, Baord of Directors, ACT Foundation, Tunde Folawiyo who called on improved collaboration amongst NGOs for better impact. Folawiyo said "partnership is the bedrock for greater support and sustainability in the third sector and there is immeasurable value when NGOs work together."
Speaking on the essence of the breakfast dialogue, CEO, ACT Foundation, Osayi Alile said there is need for NGOs to come together to discuss issues in the third sector and the foundation is willing to raise the bar and lead the social sector.
"We want to make sure that the sector begins to prosper the way it is, and when I talk about prosperity, it is not in terms of financial prosperity but the value we are bringing into Nigeria and Africa at large.
"So when people come in, they know the sector, they understand the sector, and so we can say these are people in education, health, leadership and we know exactly what they are doing." Alile said.
"This discuss would proffer solutions on ways to handle issues we the players in the social sector face and this is just the beginning of the conversations in our sector" Alile added.
ACT Foundation is a grant making non-profits organisation, established to support local, national and regional non-profit organisations working to address challenges and associated vulnerabilities in the African continent.