Like other women who are breaking the artificial barriers foisted on them by the society, Oluwaseun  Aina and  American author,  Kathy Brodsky have thrown their weights around a worthy course.
Their meeting was magical.  Oluwaseun  Aina, a  Nigerian literacy critic and coach, had attended the 2016 edition of the International Literacy Association Conference, a Global Reading Network in Boston, with the intention of gaining better exposure to children literature.   Back home in Nigeria where she runs a Magical Book Club, she  has had to contend with myriads of challenges noticeable in children's books, as they are either not interesting, error-prone or have poorly illustrated pictures.
Brodsky's books have won multiple awards, including Book of the Year from  Creative Child Magazine  in 2011, 2012, 2013 and 2016.   She was also voted into the Top 10 in the  International Literacy Association  and  Children's Book Council's  Children's Choice Reading List.  Initially, Brodsky had given her newest book,  High Wire Act  to Aina during the conference. However, she also decided to donate the rest of her books after an engaging and exhilarating Skype session with children at the Magical Book Club.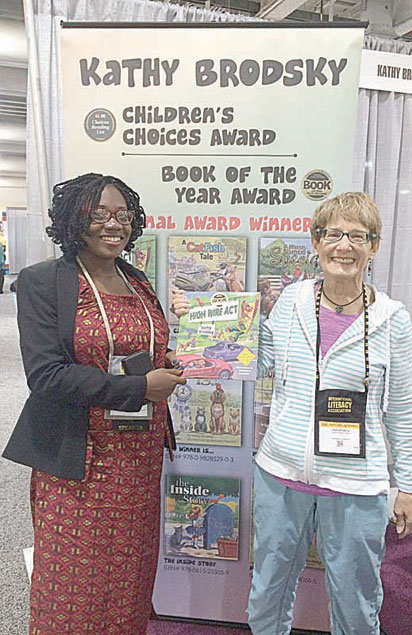 Aina was worried that despite the fact that these children were supposed to have attained the stage of reading, most of them still had difficulty 'learning to read'. 'Struggling readers' abandon reading all together because it's such an effort for them with no one around to make the reading process enjoyable". Hence, Kathy Brodsky's highly imaginative and picturesque books have become very useful for Magical Book Club.
Brodsky believes Nigeria can market her culture  heritage through story telling. "Nigeria has a rich history of storytelling that needs to be shared with the world. There are  thousands of verbal stories handed down from generation to generation that need to be captured in writing as the continent of Africa is unique to the world  in so many ways".
Children who attend Magical Book Club are already enjoying Brodsky's books. It has opened newer vistas of knowledge and experience to them.