By Obi Nwakanma
In the history of modern African Letters and Ideas, Francis Abiola Irele occupies a strategic place. He it was in the 20th century who attempted to interpret and drill down to its most elegant detail the meaning of Negritude as a mode of intellectual action, as a global black aesthetic resistance to Euromodernist circumscriptions, and as the fullness of intellectual action that registers the black quest for what he himself called "revendication." Irele died last week on July 3rd in Cambridge, Massachusetts, where he had been a Professor and Fellow of the W.E.B Du Bois Center at Harvard University. Born to a Catholic family in Sabongida Ora, Irele spent the first four years of his life in Enugu, where his father was a civil servant with the now defunct P&T, the Post and Telegraph Department.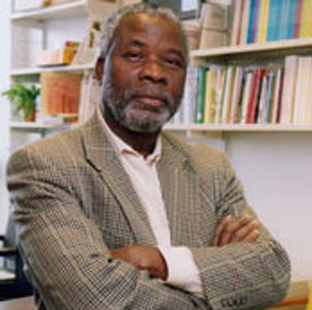 "My first language was Igbo," Irele recalled once in an interview now available on Youtube. https://www.youtube.com/watch?v=RnQIfMneXRY . Irele's Journey detoured from Enugu to Lagos, and from Lagos to Ora, where he lived with his grandmother for one year of a cultural immersion that later equipped him with a sense of that world, which in his words was a "multilingual society… practically everybody in Ora speaks Yoruba." He again returned to Lagos in 1945, just at the end of WW II, and was enrolled in the St. Patrick's School, Idumagbo, a Catholic school in what is now downtown Lagos, and later to complete Standard six, he moved on to the St. Mathias School, Obalende, from where he gained admission into yet another Catholic school, St. Gregory's College, Lagos. Abiola Irele's life mirrors in a very important way, the early trajectory or directions of modern Nigerian life, the border-crossings through processes of cultural acquisition and absorption, through the wanderings across modern Nigerian cultural landscapes -what he himself, had he put his thought to it, might have called a "cultural flaneur" – that could have, were it sustained, built a national culture, and solidified a Nigerian national consciousness.
For here was Abiola Irele, born of the Ora in what is now Edo State, but who felt, and chose to be Yoruba, immersed in its myths and its retinue of iconic signals. But Irele was also more than that. He was cosmopolitan: culturally Catholic, of a particular kind of European refinement, and by discipline, polyvalent. He was a modernist, an intellectual, whose study of the modern era lifts the veil on Africa in a profound and in a most sustained way, as only few have managed to do. From 1955 to 1957, Irele studied at the Nigerian College, Ibadan for his A Levels and was admitted in 1957 to then University College, Ibadan, into the English honours program. It was an intriguing and powerful time. The full transitional process towards decolonization had begun, and many Ibadan graduates were primed to shape the new, emerging nation in important ways. It was a time of great optimism. Irele was admitted into Teder Hall, where J.P. Clark was already in residence. Not too far across, down the road was Kuti Hall, with the likes of Emma Ifeajuna, Tony Ukpabi Asika, Kayode Jibowu, Sam Agbam, and many others who were culturally and politically active at Ibadan in that period. Irele had come to join the English department in the same year as the novelist Nkem Nwankwo, and others like Dapo Adelugba, Juliet Okonkwo (then Udezue), Bridget Akwada, and there was already there J.P. Clark, Michael J.C. Echeruo, Obi Wali, and such others. Abiola Irele came to Ibadan in the year Benedict Obumselu earned the first honours degree from English at Ibadan.
The previous year, the poet Okigbo had graduated from the Classics, and there had arrived at Ibadan, a young, freshly graduated from Leeds tutor, Martin Banham, who was appointed to Ibadan as a new lecturer in English. In 1957, Martin Banham founded the Horn magazine, modeled after the Leed's University's Poetry & Audience magazine, in collaboration with J.P. Clark, who became its first editor, and whose poem, "Ivbie" first appeared in the maiden edition of the Horn. Many of his contemporaries at Ibadan still remember his appearance in the opera, "The Magic Flute," or singing a libretto, or covering some of the instrumental recitals at Trenchard Hall, but it was at the Horn, that Abiola Irele would hone his skills as editor, publisher, and literary critic, for about 1959, when J.P. Clark left as editor, Irele became the second editor of what has now gone down in Nigerian cultural history as possibly the most important students Poetry magazine, the publication of whose students verse was one of the earliest harvests of a poetry tradition in modern Nigeria. Irele graduated from Ibadan in 1960, and won a scholarship that year, and chose to study in Paris. For two years, he studied the French Language, and in 1962 proceeded to his doctoral at the University of Paris, the Sorbonne, from which he received his PhD in 1966.
In Paris, living at the Latin quarters, and living the life of the Left Bank intellectual, and immersed in the French intellectual tradition with its rayonnement, its claim to universalist radiance, in an era of the great giants of 20th century French intellectual culture – Sartre, Roland Barthes, Claude Levi Straus, Simone De Beauvoir – Irele first encountered a sense of a global African tradition in his own study of Negritude. He had met Allioune Diop, the editor of Presence Africaine, whose office was "down the road" from where he lived in Paris. Thus began his lifelong commitment to the study of Negritude as an authentic movement of ideas rooted in the ideology of Africanity, and which he tried to give lithe form in his now eponymous essay, "What is Negritude?" It might really not be too far-fetched to say, that after the original proponents of Negritude as a philosophy, the next most important figure, the most authoritative force in defining and shaping its praxis was Abiola Irele.
On returning from Paris in 1966, Irele was first employed on the Languages Faculty at the University of Lagos, but soon found himself at the University of Legon, Ghana, when the University of Lagos authorities were not too forthcoming.
The Nigerian civil war had just broken out. The Mbari club was in disarray. Its magazine, the Black Orpheus, with its editorial committee scattered by the conflict was in disarray. It soon fell upon Abiola Irele and J.P. Clark to reconstruct and revive it, an effort that saw Irele becoming, from 1968, editor of the Black Orpheus magazine, until it was rested at round about 1975. He had returned to Nigeria from Ghana at this point, and taught at Ife, but was soon appointed to the Department of French and as Chair of Languages at the University of Ibadan in 1975, where he gave his now famous inaugural speech, "In Praise of Alienation" in 1983. In 1987, Abiola Irele left the University of Ibadan to the Ohio State University in Columbus, Ohio, at the head of the great exodus of intellectuals and professionals from Nigerian universities called "the brain drain," of the 1980s, the result of increasingly harsh conditions under military rule.
On retirement from Ohio, Irele was appointed Professor of African, African American, and Romance Languages at Harvard. The last phase of his life was marked by his involvement in founding the Kwara State University, Ilorin, which he served as Provost. Professor Irele was a giant of late 20th century African intellectual culture, and alongside Ben Obumselu, Emmanuel Obiechina, D. Ibe Nwoga, MJC Echeruo, Biodun Jeyifo, Dan Izevbaye, and Isidore Okpewho in Nigeria, gave contours to the body of a modern African system of ideas in late 20th century modernity. His book, The African Imagination, published by Cambridge, and now a classic of the field, among the many works he rendered, places Irele at the heights of the modern African canon. Irele was a buoyant spirit and his language was clear. Francis Abiola Irele- connoisseur of wine, belletrist, renaissance intellectual and doyen among African literary critics has passed now into immortality, survived by his wife, Eka, and his children, and many, many friends, and admirers across the world, where he indeed lived the cosmopolitan life.