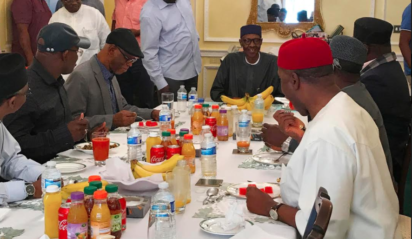 President Muhammad Buhari receives in audience APC delegation lead by APC National Chairman, Chief John Oyegun. Others are Imo State Governor Owelle Rocharles Okorocha, Nassarawa State Governor, Tanko Almakura, Kaduna State governor Mallam Nasiru El-Rufai and Kogi State Governor, Alhaji Yahaya Bello in Abuja House London on 23rd July 2017.
It's fake, Okorocha cannot tell the truth— Fani-Kayode
•Fani-Kayode is a spoilt and over pampered child – Okorocha
By Emmanuel Aziken, Political Editor
LAGOS — The hope-lifting picture of President Muhammadu Buhari dining with chieftains of the All Progressives Congress, APC, turned into a political storm, yesterday, after the Peoples Democratic Party, PDP, described it as a collective insult on Nigerians.
The PDP's reaction followed an equally blistering denunciation of the picture by former Aviation Minister, Chief Femi Fani-Kayode, who described the picture as  fake, alleging it was an arrangement to sustain the cabal in power as he blasted the media and the National Assembly for remaining docile in the face of what he called a conspiracy.
Fani-Kayode further alleged that any message conveyed by Governor Rochas Okorocha, who was said to be in the delegation cannot pass the barometer of truth. He insists he would not believe anything that comes from the Imo State governor.
Okorocha in a swift reaction, blasted Fani-Kayode, calling him a spoilt child whose only connection to humanity is the name of his father.
The brewing storm followed the publication of the picture of President Buhari in a  meeting with chieftains of the APC and governors of the party.
An insult to Nigerians — PDP
Reacting to the development, yesterday, PDP spokesman, Prince Dayo Adeyeye, said:  "It is an insult to Nigerians because they don't think that we are important; once they meet with the president that is all, and they will come and show us a picture.
"They don't even think that it is necessary for the president to send message to Nigerians or for themselves to come and tell us what happened during that meeting. They merely planted pictures in the front pages of all the newspapers, and they think that is alright.
"That is not the way to behave in a civilised country. At least, ordinarily we should have been having daily bulletins on the president's health, the man is being treated there in London with tax payers' money, and we elected him to do a job."
While affirming that the PDP wished the president well, the party spokesman nevertheless faulted the attitude of his handlers, saying:  "We wish him well, and we want him to live, but it is pure contempt for Nigerians for a group of people, party leaders to just go and meet the president and come and show us pictures without saying anything either from them or from the president to Nigerians. It is pure contempt; it is an insult to our collective intelligence."
The picture is fake — Fani-Kayode
Fani-Kayode on his part debunked the picture as a fake on the point that the elements on the table comprised Nigerian products.
He said:  "The picture of a handful of APC Governors and President Muhammadu Buhari, which was purportedly taken in London, yesterday (Sunday), is old and fake.  I have been reliably informed that they were taken during Ramadan in Abuja some time back and not yesterday in London.
"Quite apart from that, though the picture was meant to have been taken in London, curiously, all the drinks on the table are Nigerian products and Nigerian-made. Did the Governors take all those drinks along with them to London when they went to see the President?
"We do not wish the President dead, but we have a right to know the truth. As a matter of fact, we demand to know that truth because, as he once said himself, he "belongs to us all." For those who still believe that the meeting actually took place there are some nagging questions that need to be answered. For example, why were the Nigerian and foreign media not allowed to cover the proceedings and participate in this celebrated photo-shoot and merry London feast?
"Why did the Villa press corps not take one of their own camera men to London and make a short video of this "historic" event? Why were the whole proceedings shrouded in so much secrecy? Why is it that only one picture was taken? Why were more pictures not shot? Why was Buhari not put on audio tape and interviewed while he was with his celebrated and important guests? Why did he not offer a few words of hope and encouragement to the Nigerian people to ease the tension that has been generated in the land by his prolonged absence?"
Querying Governor Okorocha's capacity to convey truth, he added: "How can they expect us to take Governor Rochas Okorocha's word for anything without any solid proof or evidence to back those words up or give them a measure of veracity or credibility? I for one would not believe a word that a man like Rochas tells me. If he told me that it was day outside I would have to assume that it was night. It is that bad.
"Again why did Buhari not shake anyone's hands during the photo-shoot? Why did he not get up from his chair, say "cheese" and give us a big Daura smile? Why was he just sitting there? Why all the tall tales that he is getting much better?"
On what he pointed as the conspiracy of ignorance between the media and the National Assembly, he said: "Worse still, we have a media that is so fawning in its attitude when it comes to the Federal Government, and that is so easily intimidated that they simply refuse to ask the right questions about this matter or undertake to carry out the necessary investigations with a view to establishing the truth.
"This is the greatest tragedy of all, and it results in total impunity on the part of the government because the media is not prepared to keep them on their toes. Yet, it doesn't stop there. We have a Senate with 109 distinguished and able Senators and a House of Representatives with over 300 honourable legislators and yet not one of them has the fortitude or guts to call for the resignation of this ailing man who is clearly no longer well enough to lead our nation.
"The following questions must be answered: Are the Nigerian people under a blinding and binding spell? Is this the unholy work of voodoo-merchants, witch-doctors, and necromancers? Have our people been bound up and charmed by these broom-loving APC wizards and witches?
"The morbid obsession with retaining power at all costs which has afflicted those in the Presidency that Mrs. Aisha Buhari has graphically described as the "hyenas and jackals" in the body politic of our nation, must cease forthwith. Nigerians are gracious, kind, long-suffering, resilient, loving, patient and compassionate people who wish the best for their President but that does not mean that they should be taken for granted, taken for a ride or treated like fools.
"They are not children, and they are not stupid. It is time for this horrendous madness and hideous nightmare to stop! It is time for Buhari's seat to be declared vacant and it is time for Acting President Yemi Osinbajo to fully take over and be sworn in as the new and substantive President of the Federal Republic of Nigeria."
The presidency declined to respond to the issues raised by the PDP and Fani-Kayode while the APC spokesman was not available as calls to his known phone number did not go through.
Okorocha blasts Fani-Kayode
However, Governor Okorocha blasted Fani-Kayode, describing him as a spoilt child.
The governor who responded through his Chief Press Secretary, Sam Onwuemeodo said: "The guy (Fani-Kayode) is a spoilt child, one of those whose parents over pampered they hardly talk like human beings. Apart from somebody who went into government, he is not known for doing business. I wonder if he has ever worked and all of a sudden he had political appointment. He has nothing else to brandish apart from the father's name. Remove his father's name; I don't think he is a human being. Rochas grew from the scratch. By the grace of God and hard work, he is where he is today. But that one apart from coming to politics what else does he have to brandish?"