By Rotimi Ojomoyela
Ado-Ekiti—The Minister of Agriculture and Rural Development, Chief Audu Ogbeh, has assured Nigerians that the skyrocketing prices of foods in the country will soon crash, saying specifically that that of rice will happen within the next two weeks.
He disclosed that the Federal Government will stop importation of rice this year.
Explaining the reason behind the policy, Ogbeh hinted that the country has enough internal production that can sustain home consumption and meet foreign exchange earnings that can guarantee diversification of the economy.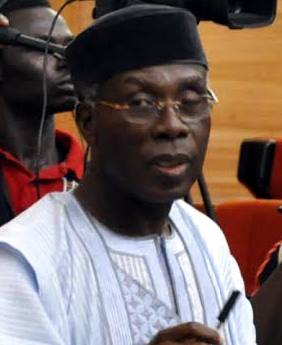 In order to further boost internal production of the commodity and enhance the country's comparative advantages in rice and yam production, Ogbeh stated that the federal government will sign a memoranda of understanding with Afe Babalola University, Ado Ekiti (ABUAD) and Ekiti State Government in the two critical sectors.
He unveiled his Ministry's intention to supply ABUAD with 20 tonnes of rice seedlings in the next planting season to boost rice production internally.
The Minister said these in Ado Ekiti at the weekend during a visit to ABUAD's farm and Ekiti State government .
Ogbeh said the current economic recession being experienced under Buhari's government has helped the federal government to think outside the box and had succeeded in bringing the deserved revolution to the agriculture sector.
According to him, "Of recent, prices of diesel increased from N130 pr litre to about N280, which makes the cost of  tractors to move up to N14 million from N7 million. The interest rate on every loan given to farmers also went up, so the aggregate of all these factors caused increase in the prices of food items.
"We are concerned with the plights of Nigerians. We knew that many are hungry but we are working round it because it doesn't speak well of us in government that people are hungry."
The ABUAD's founder, Chief Afe Babalola (SAN), praised Buhari's administration for bringing revolution to the country's agriculture sector that had been neglected by successive governments, describing the current economic recession as a blessing in disguise.
"To support the FG initiative , this university for the past three years have been holding annual Afe Babalola Agriculture EXPO(ABAFEX)
, where we give N1m to the best farmer in Ekiti and N250,000 to the best in 16 local governments.
"This year, we intend to hold Rice summit with intention to expose Ekiti potentials in the production of the commodity", Babalola said.