BY MONDAY UWAGWU/ CLETUS NGWODO/ ITEVEH EKPOKPOBE
At his inauguration into office on May 29, 2015, the Governor of Delta State, Senator (Dr.) Ifeanyi Okowa, pledged new ways of doing things. And he has been so prudent in the management of state resources that a catch phrase – Egho Aria (there's no fund) is the talk in town. Egho Aria is what he tells people who besiege him for favours or jobs that he knows may not be on immense help to the state.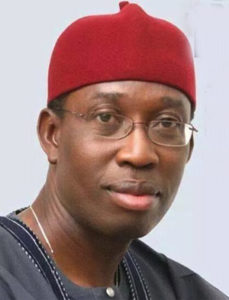 MONDAY UWAGWU/CLETUS NGWODO/ITEVEH EKPOKPOBE got the Commissioner for Economic Planning and one of the arrowheads of the government, Dr. Kingsley Emu, explained the catch phrase, its ironic euphemistic tilt and the reasons for the government's successes, in spite of the persisting crippling effects of the subsisting economic recession. Excerpts:
Can you recall in specific terms the situation of things when this government first came into office?
When we came in, it was obvious that state and the country at large were in the pit of recession, even though not officially announced. And, typical of any organization that does get into a quandary. When you are getting into office at the time of recession it calls for prudence and proper management of resources. There were challenges.
What were those initial challenges?
The issue of debt overhang has been clearly expressed by the governor when he addressed the house (Delta State House of Assembly, DTHA) and that remains the truth. In the governor's position was a lot of commitments and commitments encompass contracts awarded, existing ones, commitments made by the Tenders Board, projects that require mobilization, etc.
The governor's position was pretty clear. Now what have we done over the period? What we did was to set up Prof. Monye's Committee to re-validate most of these loans and exposures. What did we aim to achieve? In the face of dwindling resources, you must begin to prioritize your priorities.
We looked at all the jobs, all contracts awarded and we asked ourselves, 'Are there some that we could step down for now even though we have started? Is it not better to reduce our exposure, even though we have made some advance payments because we are unable to continue, in the interim, as a state? 'Are there some that have met full payment without delivery? These were the critical questions we asked ourselves. We have had cause, over the period, to look at them. We have Osubi, we have Warri Industrial Business Park, for example. We had to stop construction and job in those areas; Osubi case, in particular.
When we talk about the gravity of exposure, we look at what the government has done so far to either increase or curtail exposure. I can tell you that if we had allowed everything to continue the way it was, we would have been swimming in a whole lot of tension. Also, recall that the governor, on assumption of office, had to put out a circular to suspend all jobs and contract awarded in April, 2015.
The whole idea behind that circular was to enable us review the situation. With the privileged position of being in the transition committee, we saw the books up to date, and could, therefore, speak authoritatively as to the financial strength of the state. This was a government that hitherto earned as much as between N13b and N14 billion on monthly basis, drastically reducing and now alternating between N6b and N7 b or, even far less; it must be a matter of economic shock. We were heading for crisis; that was the direct situation.
Our prudence has led to the catch phrase 'Egho-aria'.'Egho-aria' is a euphemism for prudence. It simply means that we do not have money for those kinds of things (frivolities) because we need to prioritize our goals. We met a budget of N408 billion and some fractions which we had to cut down by 38 per cent, i.e. about N252b. You know what it means to reconstruct a building. We had to reconstruct that budget and that was a huge challenge. We had to reconstruct it for effectiveness.
That doggedness has taken us to where we are today. I can tell you categorically that Egho-aria'- there is money for things that we really need but not for frivolities.
How are you coping with Irrevocable Standard Payment Order, ISPO?
We are lucky with leadership. Governor Okowa has displayed an uncommon leadership quality. He has been able to compel followership to toe that part. What we have done, as a team, is to go down to look at our books and what is possible and apportioning them, spreading them out under immediate, short term, medium term and long term. The immediate started with salaries and actual earnings, suspending cooperatives. I am sure you experienced that. That action was to ensure that part of that money is used to sustain the system and make sure that everybody gets something to sustain life, even in the face of the economic crunch.
The commitments we have on other lines cannot be touched. The first reason it cannot be touched is because it's an Irrevocable Standard Payment Order (ISPO) that cannot be touched; it is deductible at source. We got net of whatever we required; that was the first step. The second step was that the executive had to 'suffer' in a sense. Why?
It is simply because; most of their overheads had to be suspended or reduced drastically,while we mobilised funds to pay salaries.
In the face of the immediate and short- term considerations, we also needed to deliver on the promises the governor made to Deltans. The job creation issue crept in immediately. In the first year, we had in excess of 1,235 jobs created both within the YAGEPreneurs and STEPreneurs as entrepreneurs. We also have had well over 3,000 interventions under the Production and Processing Support Programme (PPSP) Private Sector Partnership (PPSP), programme for private sector; the 3,000 translated to an excess of 6,000 jobs because when we begin to send inputs and cash to them, we begin to include more hands.
The state government also intervened very strongly in the micro -credit where over 6,500 beneficiaries have emerged. We also had to touch on schools, and all other ministries. You will agree with me that, on a medium term, we have done in excess of 581kilometers of road within the state, which is enormous. These roads cut across the length and breadth of the state. For the first time in the history of Delta State, we are consistently building roads in the creeks.
We have been doing so in Burutu, Gbaramatu, Okerenkoko, etc, and you know what it means to build roads there; it is like sinking raw cash into the water, in an attempt to build roads in the marshy terrain. That is exactly what we have done. We have spent in excess of N11.1 billion on education; we have constructed in excess of 44 blocks of classrooms and renovated an excess of 38 classrooms (blocks). We have done a lot of furniture and furnishing classrooms and rehabilitated technical colleges in Sapele, Agbor and Ofagbe, which are now in top shape.
The Ministry of Agriculture has intervened in three critical areas. Our programmes are properly spaced out and diversified. We are also working on the agro-industrial park; 220 hectares of land acquired in Ogwashi-Uku, just by the dam. The need to shift focus from oil has become a necessity. In as much as oil accounts for well over 70-80 per cent of our Gross Domestic Product, (GDP), and the oil sector does not create jobs in excess of 15 or 20 per cent. What does is agriculture, and perhaps, commerce.
So, why don't we engage our people in productive agriculture, especially at commercial level? These are very significant developments because the whole idea is all about Prosperity for all Deltans. The prosperity is not for those driving three Sports Utility Vehicles (SUVs) to drive more, but for every house that is willing, to move out of any form of economic dungeon, to prosperity. We have, on this account, created every avenue in terms of training and information, among others.
We also touched on health. Suffice it, that our predecessors did very well in health, but they were largely active at the secondary level. They were not, in my modest personal view, as impressive at the primary or tertiary healthcare levels. Our health insurance scheme is all-inclusive. As I speak to you now, well over, 20, 000 people have been enrolled in the programme.
Yo want to talk on the militancy that has affected the receipts of the state from the Federation Account (FA)?
Like I was saying, you will agree with me that we have been worst hit in terms of crude oil-related agitation in the Niger Delta. We still suffer (the effects of) that today. But we have stripped ourselves of luxuries. (As a state) we have also had some palliative measures from the Federal Government (FG) in terms of interventions. We have had Paris Club refunds and the sale of Liquefied Natural Gas (LNG) proceeds; we have had budget support from the FG, which has become a compulsory intervention that met us half way.
What is more important here is the mix of strategies that we have adopted to get out of the financial mess. We have employed micro- management payment.
But it would appear that on the heels of every intervention from the Federal Government, there is always a controversy as to how much the state truly receives?
It is mental laziness. The Ministry of Finance actually discloses what we are given but mischief makers want to twist the information. Many people feel that you have to abuse the man on the seat. What does it cost anybody to visit the Central Bank of Nigeria (CBN) website or the Ministry of Finance to know how much has been released? Today, the Ministry of Finance is very open; such information is on their website. What we appear to have now is an army of journalists we have to spoon feed.
The issue of information dissemination is not only by government. Investigative journalism is everything. At times, we hear we have received what we have not. Once I get such scoops I go online and verify. Here, I will say again and beg all journalists to go into investigative and in-depth journalism. We publish our scorecard and we are open on our dealings.
On Egho-aria cynicism?
It is misnomer and a misinterpretation of the actual meaning of the word 'Egho-Aria'. What you should be asking is under which circumstance we say there is no money. You don't expect that money that should be used to pay salaries be given to you on frivolous grounds or give you contracts when you know that the government can't fund it. The government is not unmindful of all the things it ought to have done. We don't have the money to do all it takes; so, we cannot put everything in the budget when we know we can't finance it and begin to build up abandoned projects again.
Egho-aria, like I said earlier, is a euphemism for prudence because we don't have that kind of money for frivolities. But if you are talking about constructing Nnebisi Road, 'Egho-huaa (there is money for that)'; if you are talking about Afisere Road, 'Egho-huaa.' For the first time in the history of Delta State, the government is reaching out to the rural riverine communities with real development projects on a scale unprecedented, and if you are talking about constructing roads in Okerenkoko, Gbaramatu and other riverine areas, 'Egho-huaa'.
But we don't have money to go on a cruise; we don't have money to adorn ourselves on the pages of newspapers or for jamboree because we need that money to meet the needs of the people. So, I want to use this avenue to correct the impression, even though it is not an impression I should correct but I think it is gaining notoriety and acceptability on a platform of misconception and sarcasm; it is a euphemism. That's all.