By Dennis Udoma
UYO—Imo State Governor, Rochas Okorocha and Ayo Fayose of Ekiti State, have called on their counterparts in the country to embrace the politics of inclusion as a means of making the dividends of democracy reach the people.
The governors made the remarks at Asan Ibibio in Uyo, Akwa Ibom State capital, yesterday, at  a grand reception in honour of Governor Udom Emmanuel of the state and wife, Martha by the Ibibio, fourth largest ethnic group in Nigeria.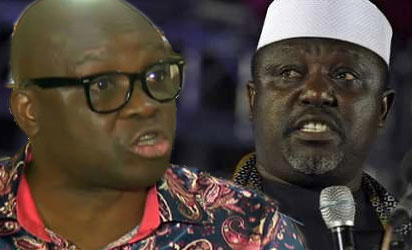 They emphasized the need for politicians to always work for the empowerment and development of the people, not minding party affiliations.
Governor Okorocha said, the gesture has led to the formation of Eastern and Southern States forum in order to form economic bloc irrespective of party affiliations of members.
According to him, "We are looking forward to a time when rail line will run across these states for the benefit of all, notwithstanding party lines. It is time we realiae that we are people from one stock, hence we are building this bridge of love between the South-Eastern and the South-South states."
Governor Okorocha maintained that, hitherto, governors usually do not attend events not organised by same party, adding, "It is time we embrace governance by putting behind political differences so as to make democratic dividends available to the people."
Also speaking, Governor Emmanuel called on politicians across the country to eschew ethnic tendencies,  stating that where justice and equity are absent among the people, there would be the tendency for disputes and other challenges as experienced currently in the polity.
Uging the people of the state to join him in building the state, he stressed that politics of bitterness, blackmail, mischief should be jettisoned.
Chairman of the occasion, Air vice Marshall Nsikak Edouk (retd), said the governor has been able to manage the resources of the state for the benefit of all in the past two years and called on the people to support him to continue beyond 2019.