By Dirisu Yakubu
Amidst claim by former Peoples Democratic Party (PDP) National Chairman, Senator Ali Modu that he was not invited to the party's caucus meeting a fortnight ago, Chairman of the National Caretaker Committee of the party, Senator Ahmed Makarfi has broken his silence, saying no one was personally invited to the gathering.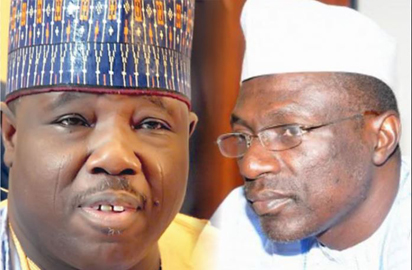 A source quoted Makarfi as saying that nobody was issued an official invitation to the caucus meeting stressing that even the immediate past President, Goodluck Jonathan did not receive such invitation. He added that the series of meetings which ended with resolutions by the National Executive Committee (NEC) were summoned through advertorials in the electronic and print media.
"We never wrote a letter to any individual; we published the invitations. President Goodluck Jonathan did not receive a phone call or a letter. No governor received a phone call or a letter, no National Assembly member received a phone call or letter," the source quoted Makarfi, adding that "the procedure of PDP is to publish in the media, both electronic and print, and it was done and those who are genuine members of the party-you saw the number, they came; so why should he (Sheriff) create a new procedure for himself?
"Others did not receive any letter, never demanded that and that has never been done in the history of the PDP; the announcement is always done through advertorial," he stated.
It would be recalled that the reasons given by Senator Sheriff about two weeks ago for his absence at the expanded caucus meeting of the PDP, apart from not being in the country at the time, was that no invitation was extended to him to attend.