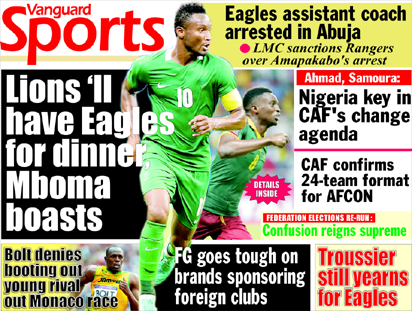 By Jude Opara, Abuja
Confusion, frustration and anger marred the much awaited sporting federations election rerun yesterday at the National Stadium Abuja.
The appeals committee set up by the Sports Ministry had invalidated the conduct of elections into athletics, taekwondo, gymnastics, weightlifting and rugby, based on petitions by aggrieved parties.
Trouble started in the morning in athletics, when Ibrahim Gusau produced a court order stopping the AFN elections.
By 8pm, it emerged that Gusau's election as President of the federation was upheld as well as the North west zone where while Patrick Estate Onyedum's election as South East representative was also upheld.
His challenger Christy Opara Asonze was dismissed because she had served a 5year ban for drug use by WADA and was not eligible to contest as stipulated in the guidelines.
Solomon Ogba was returned also as Sponsor/ Ex-officio as of AFN as approved by the federation while the case of Hamid Adio was dismissed. Rosa Collins and Brown Ebewele were earlier reinstated as  NAWIS and Technical representatives respectively.
The case of Haruna Bako and that of Charles Yayock of the North west Zone were both dismissed for lack of merit.
In taekwondo the elections were going on smoothly at the time of filing this report. Rugby were also holding theirs, while in gymnastics delegates vowed to stick with the June 13 polls, which brought in Kevin Eruwese.
In weightlifting, 34 out the 50 delegates were present and were ready for the re-run. It was gathered that Delta State Sports Council chairman Tonobok Okowa was their choice for president, but the Sports Minister, Solomon Dalung would have none of that. He told the delegates there would be no re-run for weightlifting.
The boards will be inaugurated today.