By Ebun Sessou
EWEDU  (Jute) soup is believed to be known among the Yorubas but because of its tremendous benefits, Ewedu, is now common among almost all the tribes in the country. This week, we are not only looking at the preparation of the soup but also the benefits this delicacy gives especially to children within one and 10 years. This popular vegetable is found in West Africa is not just rich in nutrients but also has a lot of health benefits, including protecting one from various diseases.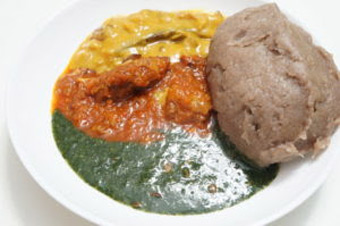 Over the years, this delicacy has been known to be recommended as one of the best. Cooking this delicacy for children means giving them the best. It is high in vitamins and minerals. It is also good source of fibre. Fibre keeps the intestinal tract in good health and may even reduce the risk of some cancers and diseases.
Ingredients
Ewedu leaves
Powdered potash, Cups of water
Ewedu Broom or a blender
Salt to taste, Maggi
Chilly Pepper to taste
Ground crayfish
Fish (Titus)
Preparations: Nicely pick just the leaves (no stem allowed), then go ahead and wash properly with a lot of water to remove any sand left on it. Pour cups of water to a cooking pot and heat to boiling point, add the washed ewedu leaves, soak the half teaspoon of potash in half cup of water and filter into the pot (to soften the leaves), cook for 7-10 minutes. Then use the cooking broom to mash (more like pound) continuously inside the pot, this will turn the leaves to tiny bits after mashing for about five minutes.
Alternatively, you can also transfer into a blender and pulse a couple of times, I think this way is easier and better. Transfer back to the pot and add the fish, ground crayfish, maggi, salt and pepper to taste. Allow to simmer for just five minutes and you are done with making ewedu soup. Serve ewedu soup with amala or pap (eko, agidi) for your baby
Nutritional and health benefits of Ewedu: This leaf is clearly rich in micro nutrients, and these micro nutrients aid in reducing the chances of illness in the consumer. The main vitamins found in Jute leaves are vitamin A, C and E, and these vitamins are key in the protection of the body from certain degenerative diseases. The vitamins present in Jute leaves are also known to be skin beautifying agents as they tend to increase the production of collagen, thus keeping the skin firm and beautiful. It is helpful in dealing with weight management and may also promote intestinal health by helping with bowel movement.
It boosts immunity and nourish the body system. Due to the vitamins and minerals present in ewedu  leaves, they have also been said to be used in the home setting in the management of stomach related conditions such as dysentery, constipation and the likes.