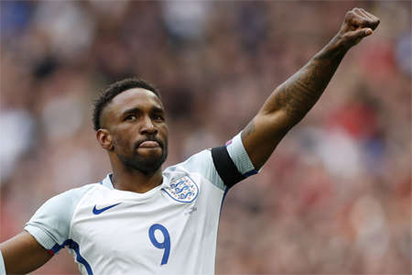 England striker Jermain Defoe
England striker Jermain Defoe burst into tears at his unveiling by Premier League side Bournemouth on Thursday, as he revealed his 'best friend' Bradley Lowery had only a matter of days to live.
Defoe, 34, and six-year-old devoted Sunderland fan Bradley were one of the bright lights of the Premier League last season with the close relationship they formed.

Bradley — who has the rare form of cancer neuroblastoma — accompanied Defoe out onto the Wembley pitch when the then Sunderland striker returned to England colours after a four-year hiatus for their 2018 World Cup qualifier with Lithuania in March.
However, Defoe — who attended a special birthday party for Bradley last month and calls him his 'best mate' — requested two minutes to compose himself when asked about Bradley at his press conference.
"It's been hard because I have kept this in for so long," he said.
"I speak to the family every day. I was with him a few days ago and it was tough to see him suffer like that. He's obviously struggling. I can say it's a matter of days.
"He will always be in my heart for the rest of my life.
"There isn't a day that goes past when I don't wake up and check my phone or think about little Bradley.
"His love is genuine and I can see it in his eyes when he looks at me."
Bradley's hopes of becoming clear of the cancer through radical treatment were dashed in early April as it failed to work and he is presently undergoing palliative care at home.