…ANED identifies major challenges
…As MAN spend N130bn on generating plants
By Udeme Akpan & Prince Okafor
LAGOS—Speaker of the House of Representatives, Yakubu Dogara, has said it is unacceptable that Nigerians spend $5 billion on generators annually.
According to him, the House of Representatives will support the Executive to find a permanent solution to the power problem in Nigeria.
Dogara disclosed that the House of Representatives had started to review some of the nation's energy laws in order to provide an appropriate legal framework that would facilitate the exploitation of renewable energy to the benefit of the economy.
He said: "Power is arguably the single most important driver of the national economy. Indeed, it is difficult, if not impossible, to imagine modern life without power. Our industries and factories need electricity to run; and so do our offices, homes and businesses.
"It is estimated that Nigerians spend about $5 billion yearly to fuel their generators. This is an unacceptable situation and the House of Representatives stands ready to support the Executive arm of government to put a stop to this state of affairs.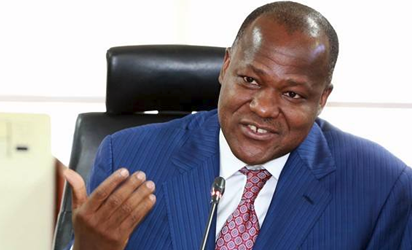 "Renewable energy is a source of clean energy, which is environmentally friendly and is crucial to the economy of the future. We can only be self-sufficient in the energy field when we combine all of our energy resources such as wind, solar, hydro, biomass, bio-fuel, landfill, sewage gas, solid waste, geothermal energy, ocean energy etc.
"An appropriate legal framework to exploit renewable energy, which is nature's gift to mankind is not adequate in Nigeria. This makes it difficult to organise the sector in a commercially viable matter."
State of power supply
Investigations showed that Nigeria's power generation, transmission and distribution have been limited, with its attendant unstable power supply.
The Advisory Power Team report made available to Vanguard stated: "On July 17, 2017, average power sent out was 3,258 MWh/hour (up by 92 MWh/h). The reported gas constraint was 1031MW
"The reported line constraint was 265.5MW. The reported frequency management constraint due to loss of DisCo feeders was 1274MW. The water management constraint was 0MW.
"The power sector lost an estimated N1,234,000,000 on July 17, 2017 due to constraints. High frequency due to loss of DisCo feeders remains a significant constraint to generation. Increased line constraints on Gbarain NIPP, Ibom and Olorunsogo I."
Problems in power sector
Mr.  Sunday  Oduntan, Executive Director, Association of Nigerian Electricity Distributors, ANED, disclosed in an exclusive interview that: "There are some challenges that need to be tackled by many stakeholders, especially the Federal Government, the DISCOs and gas suppliers. These include lack of liquidity that hampers ouroperations.
"Another challenge is energy theft which culminates in leakages and losses. The vandalism of facilities that occurs too often is also a serious problem that leads to huge deficit. No bank would lend you money unless your business is bankable."
Investors' ordeal
The poor power supply has crippled operations in almost all sectors of Nigeria's economy.  According to the Association of Telecommunications Companies of Nigeria, ATCON, telecom subscribers lose an average of N730 billion to poor quality service yearly.
For instance, MTN Nigeria spends N30.5 billion yearly on the purchase of diesel alone.
The CEO of Airtel Nigeria, Mr Segun Ogunsanya, said: "The power costs of a site connected to the power grid are only about 1/6th those of a fuel-powered site, but only about 10 per cent to 15 per cent of base transceiver stations are connected to the electric power grid.
"Primarily, because of fuel costs, the average network costs in Nigeria are twice to thrice higher than in a number of other African markets. The implications of such absence of reliable power infrastructure are far-reaching."
MAN spent N130bn on fuel plants
Mr. Frank Jacobs, President Manufacturers Association of Nigeria, MAN, said in an interview: "It is possible to gauge the loss suffered by manufacturers arising from paucity of electricity supply and high cost of alternative energy source. Capacity utilisation in the sector has barely been above 50 percent.
"This implies that the production has been sub-optimal; production value in the sector was estimated at N8.38 trillion in 2016.
"Another way of measuring the loss to manufacturers as a result of the challenges of electricity supply is by looking at the huge cost of alternative energy which was estimated at N129.95 billion in 2016."
"Even though the sector, especially the distribution aspect has been privatised, it is important that government should find ways and means of supporting the Discosuntil a stable, quality and reasonably priced electricity is available to the manufacturing sector."