Lagos – The Accident Investigation Bureau (AIB) had said it would take the engine of the crashed private jet belonging to the former Governor of Taraba, Late Dambaba Suntai, to its manufacturer in Wichita, Kansas, in the U.S., for tear down.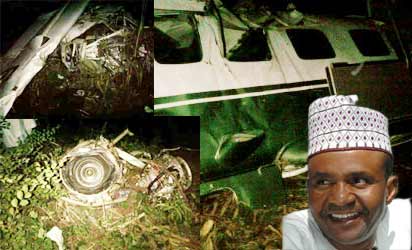 The News Agency of Nigeria (NAN) reports that the AIB Commissioner, Mr Akin Olateru, made this known while briefing newsmen at the agency's headquarters at the Murtala Muhammed Airport (MMA), Lagos.
NAN reports that the move is coming almost five years after the aircraft crash involving Suntai, who died recently, occurred in Yola, Adamawa State.
Olateru noted that the shipment of the aircraft abroad for analysis since the crash occurred on Oct. 25, 2012 had been delayed due to paucity of funds.
He explained that the teardown of the engine was necessary in order to determine the state of the aircraft's engine before the incident and was one of the processes of the investigation that the AIB would perform.
Olateru said: "We are about to take the aircraft engine that involved the former and late governor of Taraba State in 2012 abroad.
"We are planning to send the aircraft engine back to the manufacturer for what we call engine tear down.
"It is one of the processes of accident investigation. Investigation is still on because there is no money to ensure we check the engine that it was in right situation before the crash."
NAN reports that Suntai and five of his aides were involved in the crash after the private jet, a Cessna 208 aircraft marked 5N-BMJ, which he was said to be piloting, went down in Yola on the fateful day around 7pm.
Suntai, who did not recover from the crash, died on June 28. (NAN)