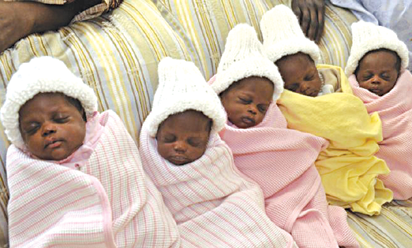 More mothers are opting for deliveries through Caesarian Sections (C-section), a survey conducted by  Newsmen has shown.
The process involves making incisions in the mother's abdominal wall and uterus to remove the baby, rather than the natural course of delivery through the vagina.
It is generally considered safe, but the survey showed that it had more risks than vaginal births. And that is even aside the quick recovery by the mothers.
Some experts, who spoke with NAN, advised that C-sections should be the last option as they were not as medically beneficial as the natural vaginal deliveries.
One such expert, Dr. Blaise Okwaraoha, who works at the Obstetrics and Gynaecology Department of the Dalhatu Araf Specialist Hospital, Lafia, told Newsmen that babies born through vaginal delivery stood less risk of having respiratory problems.
"Children born through vaginal delivery have the benefit of excess fluid pumped out of their lungs while coming out through the birth canal.
"That is one massive health advantage that every mother should crave for, unless when she or the child is confirmed to be at risk if delivery is made through the vagina," he said.
He said that C-sections should only be encouraged if there were complications.
Okwaraoha attributed the growing trend of C-sections to the request for them by mothers not ready for the pains of normal deliveries, as well as campaigns by human rights groups.
"Most women, who deliver their babies through C-sections on request, normally say they want to avert labour pains and preserve their birth canal from the trauma associated with vaginal delivery.
"In more developed countries, women have continued to champion the struggle to protect their rights regarding taking decisions on how to manage their pregnancy and delivery.
"But, apart from the risk of respiratory problems to the baby, C-sections predispose the mothers to post surgical infection.
"The trend was not popular in Nigeria some years ago, but it has gained more ground in this part of the world with growing awareness and more women becoming educated and ready to explore all options," he said.
A cross section of women, who also spoke on the trend in Lafia, expressed mixed feelings over childbirth through C-section.
Mrs. Deborah Danjuma, a mother of four, said that labour pain was an integral experience in the joy of motherhood.
"I am not opposed to C-section if there are complications during pregnancy, but requesting for it just to preserve my birth canal is an abnormality," she said.
She attributed rising cases of C-sections, especially in private hospitals, to inexperience and the quest to make money.
"Most gynaecologist are always quick to book pregnant women for C-sections even when the risk factors are minimal just to charge huge sums for the procedure," she alleged.
Miss Hanatu Akabe, a journalist, however, said that she would not mind having all her children through C-sections due to what she had heard about labour pains.
"I have heard so much about how unbearable labour pain could be. If I can have my way, I will opt for C-sections, though I am told that it is also painful," she said.
Dr. Ochala Damusa, Consultant Gynaecologist at the Federal Medical Centre (FMC) Lokoja, however, told NAN that C-sections had become more common because of the rising number of maternal morbidity and mortality resulting from obstructed labour and antepartum haemorrhages.
"C-sections have reduced the risks of dying during child birth, though one will naturally prefer vaginal delivery because it is less prone to complications."
On the economic benefits to doctors, Ochala said that doctors in public hospitals do not reap economic benefits from C-sections because there is no extra financial attachment to it.
"For us here, there is no particular interest aside the quest for quality medical attention. Whether we carry out C-sections or not, we shall get the same salaries at the end of the month.
"But for doctors in private hospitals, C-sections will add some income to them," he said.
He said that women involved in C-sections across all ages, but added that most of those brought to the hospital were teenagers.
"Teenage pregnancies are generally seen as high risk pregnancies because their pelvic bones are not well developed, especially at ages 14-18.
"We have also found more need for C-sections among people in the lower rungs of the society because they do not eat well, while many are unable to afford the cost of ante-natal care," he said.
The medical officer urged parents and those in authority to help more women to acquire education to place them in a better position to take decisions.
"When women are educated and empowered, they can afford ante natal care and decide how best to manage situations," he said.
He also suggested that C-sections be made free for those who may need it, noting that some women run away from it because its cost was usually very high.
"Some women reject C-sections and opt to deliver at home only to rush to the hospital with complications.
"On the whole, though there are many advantages of vaginal delivery, some complications from vaginal delivery such as obstructed labour, fetal distress, vesico-vaginal fistula, uterine rupture can be prevented by performing C-sections; this reduces maternal and perinatal morbidity and mortality," Ochala said.
On his part, Prof. Patrick Daru, Head, Gynaecology and Obstetrics Unit of the Jos university Teaching Hospital, has said that C-sections were gradually becoming more popular because they had proved to be safer for mothers and their babies, than the vaginal birth.
"In some cases, the babies can be in a breached position, with head not turned down; in some cases, the baby may be too big and exceed the normal fetal size which leads to prolonged labour with the baby unable to come out from the birth canal due to the size.
"The result is that the baby gets stuck which could easily lead to the death of mother and child," he said.
Other reasons, he said, included narrow pelvic, placenta previa where placenta blocks the cervix, or a maternal disease that may worsen by the stress of labour.
He explained further that some C-sections were not always planned and only become inevitable when slow labour was observed, or when labour failed to progress.
Some women, who spoke on the trend, agreed that C-sections should be encouraged when there were complications.
One of them, Mrs. Blessing Oni, a journalist, who had twins through C-section, said it was her first pregnancy and one of the fetus was in a breached position, prompting the doctor to advise her to settle for that.
Another women, Mrs. Simi Pam, said she underwent C-section when she stopped dilating during labour.
"I was rushed in for an emergency C-section and it was very successful. I was already weak and could not push any longer.
"I will recommend the C-section in spite of its heavy cost. I prefer it to the normal delivery because you would not have to push and drain your energy.
"Another advantage is that women get more pampered by their husbands after C-sections, when compared with the casual attention given to them when it is normal delivery," she said.
Mrs. Joan Tan, a trader, who said she opted for C-section on her own volition, explained that her initial five deliveries were via vaginal births, but that she chose to have her last baby via C-section just to experience what it was like.
Mr Rowland Agang, whose wife recently delivered twins through C-section, said that his major concern over the activity was the prohibitive cost.
"My wife's delivery cost N250,000 in a private hospital in Jos. Nothing prepared me for that huge expenditure," he fumed.
Similarly, Mr Ezekiel Nyam, who paid N90,000 when his wife gave birth via C-section in a tertiary hospital in Jos, advised that its cost be reviewed down wards or subsidised so that the poor could afford it.
"If the cost is low, the poor will afford it and that will ensure the success of government's campaign to reduce infant-maternal mortality to the barest minimum," he said.