By Michael Ozah
The Anambra and Aba branches of the Nigerian Bar Association, NBA, have elected new executives to pilot their affairs for the next two years.
In Anambra, election into the executive committee of the Awka branch of the NBA was held last weekend at  the High Court Complex, Awka.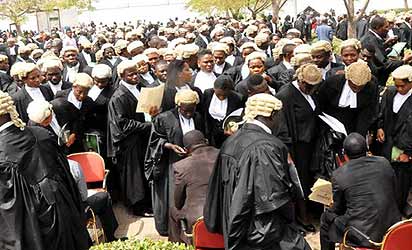 The position of the chairman was between Bona Oraekwe  and Gabriel Moneke, who was later elected unopposed as Oraekwe withdrew his candidature.
Other officers elected were L. N. Uju, Vice Chairman; P. I. Chukwudebelu, Secretary; Chuba Onebunne, Financial Secretary and Emenike Nnajide, Treasurer.
In his acceptance speech, Mr. Moneke, who is also Vanguard's external solicitor for South-East zone, promised to serve the Awka Bar with vigour and the fear of God. The officers will be formally sworn in on Saturday and will hold office for two years.
In Aba branch, Bob Ogu defeated Uchenna Umenne to emerge Chairman of the branch, while Chisom Kalu was elected the secretary.
Others were; C.C. Nwachukwu,  Vice Chairman; Uzoma  Nwaogu, Assistant Secretary; Ten Udo, Treasurer; H.U. Udensi, Publicity Secretary;Faith Agwu Adediran,  Welfare Secretary; Emeka Eze, Social Secretary; Sylvester Ifeakor, Legal Adviser and Ihudiya Chukwu,Provost.
The Aba election suffered disturbances as some lawyers allegedly attacked the Secretary of the Electoral Committee and broke the door to the voting centre.
Some of the protesting lawyers who spoke to Vanguard on the condition of anonymity alleged that they were disenfranchised and accused the electoral committee of adding names of ineligible lawyers.
At about 5.30pm when it appeared that voting could not be continued, the NBA national observer for the election, Eze Nwosuegbe directed the declaration of the results based on the votes already cast.
In his acceptance speech, Chairman, Mr. Bob Ogu, said his executive will run according to their oath of office and the principles on which the branch had been known for.