By Udeme Akpan, with agency report
Addax Petroleum has paid  a $32m fine to close its Nigeria's bribery case. African Energy Intelligence that confirmed the development, yesterday, stated: "Addax pays up, switches up its team and settles its legal case."
Before then, Addax Petroleum had agreed to pay about N9.8 billion (31 million Swiss francs) to settle charges of suspected bribery of foreign officials, the Geneva prosecutor's office said, yesterday.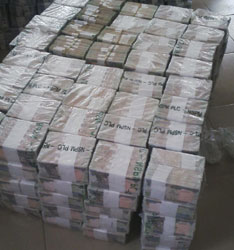 The chief executive officer and legal director of Addax Petroleum in Geneva were arrested and charged with suspected bribery of foreign officials in Nigeria early this year.
A criminal procedure was also opened against the company – an affiliate of China's Sinopec, Asia's largest oil refiner.
According to Reuters, a four-month investigation found the payments were not sufficiently documented and doubts remained on their legality, but no criminal intent was established, the Geneva prosecutor's office said in a statement.
It added that Addax acknowledged possible organisational shortcomings and had taken measures to improve internal anti-corruption procedures.
With this settlement, the cases against the CEO and legal director have also been closed, a spokesman for the prosecutor said.
Investigations showed that Kaztec Engineering, a company received over $80 million in payments from Addax Petroleum Nigeria Limited (a subsidiary of APUK) for construction projects.
It was gathered that other payments in excess of $20 million were recorded as legal expenses that were made to several 'legal advisors' in Nigeria and the United States.
Also, Addax Petroleum Nigeria was said to have awarded Kaztec Engineering Nigeria Limited five contracts worth $1.244 billion between 2009 and 2014.
Deloitte LLP had stated in a statement that it could not obtain a business rationale or validity for the payments made by Addax Petroleum Nigeria.
"The magnitude of these payments appears to be in excess of the demonstrable value of work performed and their purpose and timing raise issues which have not been resolved," Deloitte LLP disclosed.
"Regarding the payments to 'legal advisors', Deloitte LLP noted that "among other concerns, it has not been clearly established what services were delivered for the amounts paid.
"In addition, we have received a number of whistle-blowing allegations, both from within and external to Addax, some of which allege that such payments have been made to bribe foreign government officials and that certain amounts have been embezzled by certain members of management within Addax Petroleum group."
However, Addax was bought by China's state-owned Sinopec, Asia's largest oil refiner in 2009.
Addax stated in an emailed statement that its CEO had resumed his duties while its chief legal officer retired on June 30.
"Addax Petroleum is committed to conducting its business with the highest level of integrity, and in full compliance with applicable laws, regulations and industry standards," the company said in a statement.
Addax stated that it began operations in Nigeria in 1998 by signing two Production Sharing Contracts (PSCs) with the Nigerian National Petroleum Corporation (NNPC).
"In Nigeria, Addax Petroleum's producing assets include 11 field complexes with around 80 production wells in concession OML123, 2 fields with 15 producing wells in concession OML 124 and 2 fields with 17 production wells in concession OML126.
"Addax Petroleum was founded on a deep knowledge of the African continent and today, we are a wholly owned subsidiary of Sinopec and a leading international oil and gas exploration and production company with strategic focus on Africa, the Middle East and Europe.
"Our acquisition by the Sinopec Group in 2009 ushered in a new phase in our development. As Sinopec's largest overseas subsidiary, we have been spearheading its internationalisation strategy – strengthening its upstream operations and accounting for approximately a third of its overseas production."