Abuja – Sixty per cent of the proceeds realised from the Tuface charity concert would be channeled toward providing protection and empowerment of the Internally Displaced Persons in the North-East.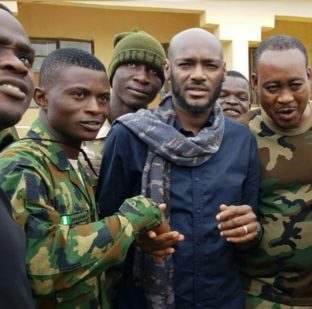 Mr Jose-Antonio Canhandula, Country Representative, United Nations High Commission for Refugees (UNHCR), has said this at a charity concert on Saturday in Abuja.
The concert was organised by the Tuface foundation to support UNHCR in its interventions in the North-East.
He said that the humanitarian challenges in the North-East, due to Boko Haram insurgency, were enormous, adding that it had brought inadequate protection of women and girls and their empowerment as a major challenge.
'' The crisis in North-East Nigeria actually affects women and children more than anybody else.
"We intend to see how this proceed can be used to alleviate the plight of women, widows and heads of families.
"We would also see how we can use the proceed to resolve the issues of youths not employed, by training them in skills acquisition programnes and activities on livelihood", Canhandula said.
Canhandula lauded Innocent Idibia, popularly known as 2baba, for his commitment in assisting IDPs and refugees by supporting UNHCR's interventions, describing him as a musical icon.
He said that the partnership with 2baba was a very positive initiative, noting it had started bringing Nigerian voices to talk about Nigerian problems and indeed, the problems in the North-East.
The UNHCR country representative, however, stressed the need for government, members of public and musicians to come together and talk about population related problems and how resources could be mobilised to solve them.
He called on Nigerians with resources to support IDPs, adding that this class of people found themselves in the unfortunate situation due to no fault of theirs.
Canhandula assured that the UNHCR would utilise the donations realised at the event judiciously and for the purpose intended.
He described UNHCR as a transparent organisation, promising that it would account for every amount spent in its interventions.
"When we get support from personalities, we do make sure that we use the money in the manner that we have agreed and the donours can come to see the impact of their donations on the IDPs.
"We have a strong code of conduct as all international organisations have and we sign the code of conduct that ensures that we have a public accountability.
"I have an accountability to my supervisors and also to the government," he said.
Also speaking, 2baba, who lauded the organisation for its interventions in assisting the victims of insurgency, pledged his continued support for the IDPs.
He said that the concert, the first of its kind, was the beginning of a greater partnership with UNHCR, especially in addressing ''the gigantic humanitarian challenges in the North-East.''
Tuface said that he was happy with the turnout of people for the event, adding that response indicated that Nigerians were ready to contribute to bringing succour to the IDPs and refugees.
He said that the magnitude of the challenges in the North-East gave cause for concern and required concerted efforts to addressing them.
"I always preach about one love and one man cannot do everything, it requires a joint effort and I am working with UNHCR because it is a credible organisation.
"UNHCR has done so much in terms of shelter, food and we are working with it because it is always on ground and we are not.
"There are so many things that need to be done, we are not targeting any specific project, our goal is to make life easy for the IDPs.
''However, we want to focus more on education because most of them in the camps are children and education and orientation is key, they need to work on their mindset," 2baba said.
The musician appealed to Nigerians not to relent effort joining the noble cause by downloading the song dedicated to the IDPs as their ring and call back tones for as low as N50.
He called on other artists to follow suit by joining their voices to assisting the IDPs, refugees and other persons of concern.
60 per cent from the proceed of 2baba's song for IPDs, entitled, "Hold My Hand" will be donated to UNHCR to support its interventions in the North-East.
The concert, dubbed "Eargasm,'' featured 2baba, Waje, Kelly handsome, Style Plus, among other artists.
Others present were top government officials and members of the House of Representatives. (NAN