…Says time to invest in palm oil production is now
BY CHARLES KUMOLU
MANAGING Director of BKG Exhibitions, Mr. Ifeanyi Agwu in this interview laments the neglect of Palm oil production in Nigeria, adding that plans have been concluded to hold a summit entitled: 'Nigeria Palm Oil Technology Show' in order to revive commercial production of palm oil in Nigeria.
What inspired your interest in palm oil production?
Palm oil production holds great prospects for Nigeria, especially at this time. That is why we are organising an international conference on it. It is called Nigeria Palm Oil Technology Show.   It is specifically for the palm sector. It focuses on everything that has to do with palm produce from seedling, nursery, planting, growing, maintenance, harvesting,   production to marketing. It is about palm holistically. It goes to the extent of determining continental and intercontinental markets for exports as well as the local markets. It is a comprehensive event in the palm oil market.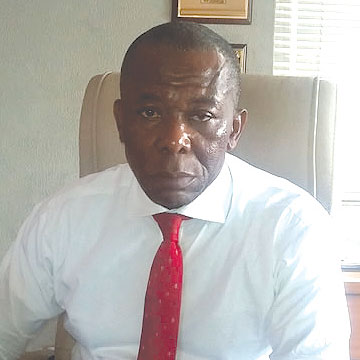 What does the palm oil summit seek to achieve?
It seeks to achieve the core call for diversification in the economy. It is one major area that the regions that are blessed with palm can diversify because the market is there and the potentials are there. All that are needed are little efforts to sensitize the people because this is a product that has grown with the people and it has become part of those environments.
Sometimes they grow wildly without management. What we are saying is that it should be done properly to contribute its own part in empowering the people, creating more employment and giving financial benefits to indigenes of host communities, investors, and governments. We want to bring back this cash crop that we have neglected because of the discovery of crude oil. Right now as we speak, palm oil is even more expensive than crude oil. People get paid more for palm oil than crude oil. And it has a considerable good life span of nearly 50 years of continuous fruiting. What can beat?
How much can Nigeria make from palm oil annually?
Palm oil is almost the same thing with crude oil. It is just that crude oil is drilled while palm oil is done by planting and harvesting. The farming aspect is a little bit easier than drilling. The good aspect is that the soil where palm oil grows comes naturally. And with technology researchers have been able to develop multiple fruits that can give 15 heads in a tree.
It is no longer like the old ones that only produce one or two heads. When the latest ones are ripe, people can get 15 or more. And harvesting is no longer done through the local way of climbing. Harvesting can be done while the person is standing. Every single aspect of palm oil farming is useful.
The oil, kernel, chaf, and others are all useful. That is why we want to show Nigerians that what they are neglecting is a money-spinner. The bye products are used in different industries, even some advanced countries are using them for energy. It is used for both electricity and biofuel.   It is a very important plant that we have in abundant but nobody is looking at it. Embracing palm farming will reduce unemployment by 50 percent because palm plantation can be managed by anybody.
It is unlike the oil sector where people must be educated to be able to work there. The life span of a palm is 90 years but we are saying that effectively, we can benefit from it for about 50 years. It is also environmentally friendly. A barrel of palm oil is about $500 while crude oil is about $50. Therefore, the difference is obviously clear.   When we talk about $500 per barrel it says much about the kind of revenue to be generated.
In specific terms, how do you intend to do the exhibition?
We are an exhibition company and are in partnership with a Malaysian company that does exhibition. The company is known for holding Palm events in Indonesia, Malaysia, Thailand and other countries.   They are coming here with their technology. They are bringing companies that manufacture equipment for palm oil production. International palm oil buyers are all coming here to see the opportunities we have here.   They will also bring the latest technology on how to plant, grow and process palm produce in Nigeria. With that, government at all levels, private investors and individuals should identify with this project. It holds a lot of prospects for the economic future of the country.   We have talked to established Palm Oil Mills and made them to realise the opportunities the event offers.
We are lucky to have Heritage Bank as partners in the project and the bank understands the agricultural sector very well.   The existing investors in the sector are part of the event. Right now, it is important the government gets involved because it has a big role to play. The issue with palm plantation which the government and the Central Bank of Nigeria, CBN, have to look into is the financing of palm plantation.
The government has been doing a lot of financing in other products like rice, it is also important to replicate the same in the palm sector. All the ones they are doing takes one year before harvesting but palm takes four years before it starts bearing fruits. For it to be of economic importance it needs a lot of financing but the financial sector is not doing enough on that. The banks demand interest after one year and no investor will afford to start paying interest after one year. Therefore, the CBN and Bank of Industry should come up with a special fund for people that are investing in the palm sector.
That should be done being mindful of the fact that it will take four years for palm to start yielding fruits. Investing in Palm production is a lifetime investment but money is needed to develop palm plantations.   There should be a special fund for it and there should be a four-year moratorium so that repayment of loans can be done after four years when the palms would start bearing fruits.   The event is going to hold in Enugu from September 12-14.   We have identified 14 states in Nigeria that have the potentials to become self-sufficient through palm oil production.
They are Ekiti, Ondo, Osun, Edo, Delta, Kogi and all the states in the Southsouth and Southeast. We missed our road so much by abandoning palm oil production and we need to go back to that.   I must say that NIFOR has been researching and coming up with the trends in Palm production but nobody is listening.
Rather, people are running to oil and gas when this is more profitable than oil and gas. Investing in the palm sector is a better way of empowering the people. It is better than buying cars or wheelbarrows for people. Anyone, who invests in this will live to have his name remembered in every generation. Because Nigeria has not fully embraced the modern way of producing palm oil, we lose so much using the local way of processing.   With the latest technology, we can get   95 percent of the oil.
Subscribe for latest Videos