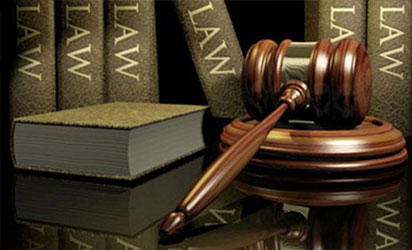 Judicial symbol for justice
By Innocent Anaba
The first female Senior Advocate of Nigeria in the country, Chief Olufolake Solanke, has expressed optimism that though Nigeria is sick, it will be healed with the unbiased application of the country's laws, which she noted the country has in abundance.
She spoke at the public presentation of a book Ship Acquisition &Finance: Law & Practice,  authored the Principal Partner of Kenna Partners, Professor Fabian Ajogwu, SAN in Lagos.
Chief Solanke also expressed worries over decline in the reading culture of Nigerians, lamenting that many Nigeria including lawyers now rely so much on the Internet rather than reading even for their research work.
She noted that although the Internet is a magnificent source of knowledge, it has its own problems and should not take the place of reading, as she extolled Profession Ajogwu for coming with the new book even at this time when Nigeria is sick and encouraged him not to relent in his efforts.
Speaking at the event, a foremost SAN, Chief Adegboyega Awomolo, said Ajogwu has remained a shining light for the legal profession despite his young age.
He said that the he was looking forward to seeing new generation of lawyers, who will follow Ajogwu's footsteps in the mentoring  young lawyers in Nigeria.
In his forward on the book, an astute banker, Mr. Jim Ovia said the book as authored by Ajogwu will help the reader navigate the complexities of international shipping finance in the context of the Nigerian economy.
The book reviewer, Mr. Sylva Ogwemoh, SAN and Principal Partner, Kevin Martin Ogwemoh, said, Ajogwu has in the book provided useful and practical guide to bankers, lawyers, investors, shipping merchants and others seeking knowledge in the field of ship sale and purchase and the procedure for financing, acquisition and registration of ships in Nigeria.
According to him, it is a fact that despite the age and growth of the maritime sector, shipping companies continue to face challenges of access to financing of ship acquisitions, while prospective owners can hardly provide the fixed-asset-type securities (used in traditional lending transactions) required by local banks and financial institutions.
In his remarks, the author, Professor Ajogwu who also celebrated his birthday at the event, said the 255 paged book, started in 2008 is aimed at capturing his experiences as counsel in matters relating to shipping and maritime matters.
The event was graced by notable jurists, legal luminaries and captain of industries, which include the Attorney General and Minister of Justice Abubakar Malami, represented by the Permanent Secretary and Solicitor General, Taiwo Abidogun, former Foreign Affairs Minister,  Odein Ajumogobia SAN, Vice-Chancellor Pan- Atlantic University, Juan Elegido,  Mr. Damian Dodo, SAN, Chairman of MTN Nigeria, Mr. Pascal Dozie, Justices of Court of Appeal, High Court Judges and Industrial court judges amongst others.