By Davies Iheamnachor
PORT HAR-COURT— Residents of Unity Estate in Eneka, Obio/Akpor Local Government Area, Rivers State, whose houses were demolished by the Rivers State Government have demanded N5 billion compensation from the state government for alleged illegal destruction of their property.
Rivers State Ministry of Urban Development had on June 1, 2017, demolished over 80 houses in the estate, claiming that the land belonged to the state government.
Speaking in Port Harcourt, yesterday, Coordinator of International Human Rights Protection Initiative, INHURPI,  Mr John Ihua, who addressed newsmen on behalf of the evicted residents of the estate, called on the state government to pay N5 billion to the victims of the demolition.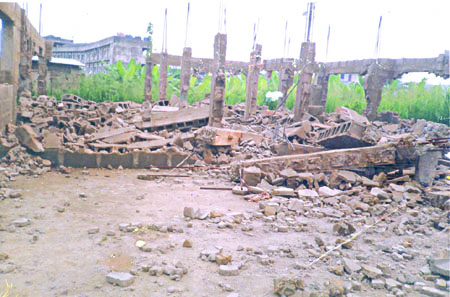 Ihua noted that the government of the state sacked the residents of the estate maliciously and illegally, adding that due process of law was not followed.
He condemned the eviction and alleged that the government had illegally encroached on community land and intended to intimidate residents of the area.
Ihua said: "We condemn the forceful eviction of the residents of Unity Estate. The forceful eviction led to the collapse of two women who are now in critical condition in the hospital, while several people sustained injuries during the demolition of more than 80 houses and thousands of children, some as young as five months old, forced to live on the streets because they have nowhere to go.
"We call on the government to immediately compensate the victims of the eviction with the sum of N5 billion and provide alternative accommodation for the victims."
Meanwhile, one of the landlords of the estate, Mr. Edwin Luke-Amadi,  has called on the state government to meet with the community for discussion.
Luke-Amadi maintained that the land Rivers State Government was claiming ownership belonged to the community and  intimidating resident of the area to take over their property forcefully.