By Ugoji Egbujo
The police are celebrating. Notorious kidnapper Evans has fallen into their hands. They pumped bullets into the air, and sang victory songs of football fans. They are winners, they chanted. They need all the encouragement they can get. They are poorly funded and poorly equipped. Their efforts are often not well appreciated. The public no longer holds them in high regards.  So their self- congratulation may not be too obscene. Evans may be a routine criminal but he had left them chasing shadows. Let them sing, and dance. When the euphoria settles, let them sit and reflect, and mourn.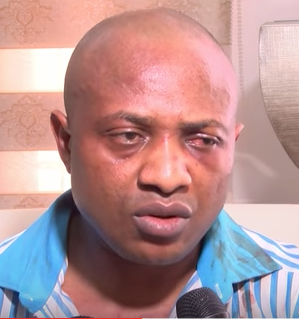 I was privileged to have seen the disruptive and corrosive effects of Evans from close quarters. We mourned and gnashed teeth at the sheer ineptitude of the police then. I met one of the victims after his release, last year. He was held for almost 6 months. He described the depravity of the abductors graphically. They kept his legs chained with heavy metals for 6 months. He was blindfolded most of the time. The  small cell was dark, dingy, dirty and lacked ventilation.  He went some days without food. When food came, he ate without seeing the food.  I closed my eyes and tried to imagine it, I couldn't. When he was released,  he was all bones and withered muscles and warty skin. He could barely walk. He was abducted close to his home by men in military and police uniforms.  He weighed 95kg then. His family paid hundreds of millions in ransom. He barely slept all those months. Death seemed always at the door.
They  loosened him and dropped him on a lonely road one night. One full month after he had paid his ransom. His family thought he was dead. It was 6 months in the valley of the shadow of death.  He came back a ghost. He weighed 60kg. He had been a businessman for almost 45 years. They took all he had worked for. His family kept the news of the ordeal from the children. They feared, they would have been scarred forever. I asked him three months after his release if he had recovered. He confessed that he was no longer alive. They took his soul, he said. He called Igbo a bad race.
No one knows when Chukwudi Onwuamadike, alias Evans, took to a criminal career. But those who live in Amuwo Odofin know when they started living in fear of him. It's been five long years. It's good to praise the police, but it's also good to tell them some bitter truths, sometimes. Criminals can remain elusive for long. It happens in the United States. But a routine criminal, engaged in high profile crimes, should not be allowed to become a mythical figure. This is 2017 and not Oyenusi's 1971.
The police have reeled out the rich criminal resume of Evans. Evans isn't an ex soldier or policeman. He isn't well educated. He is a secondary school dropout. He had no access and no social reach. He wasn't an El Chappo, and didn't have a mafiaso network. Yet Evans killed policemen and remained free for so long. Evans collected million dollar ransoms, many times, effortlessly. Evans and his resume are an indictment on the police. Evans wasn't a petty car snatching thief like Shina Rambo. He should have been given attention and stopped long ago. The Vanguard Newspaper deserves commendation.
Evans ruined the lives and hurt many more with dread. He seemed omnipresent and omnipotent. Many ran away from their homes. Others went around with their hearts in their hands. Evans succeeded too easily, too often. Stories of his ruthlessness and invincibility choked the peace of  many families. The police were there, everywhere. But the people were dying in helplessness.
The police are happy to recount his exploits to paint a picture of the magnitude of their success. For many who didn't come in contact with the terror, Evans is a social media spectacle. The truth is that  the pain and anguish of families of victims and  those who felt themselves potential preys can't be  fully told. Nothing can capture and publish the effect  of those evil, nightmarish, intrusions. Every time he struck, fear and sorrow filled everywhere. Now I see jubilant policemen, I see pictures of mansions in Magodo and I hear Nollywood  action movie stories of Evans, and I almost forget.
Evans tore lives to shreds.  The police must sit down to find all his accomplices. They must find out how they failed to get such a routine criminal until he had done so much damage. Evans didn't take his victims to the creeks. Victim after victim said they always heard the sound of aircraft.  Evans didn't live in a forest, like Shekau. He was luxuriating in plush Magodo. Evans wasn't a recluse. The story is that he kept loads of girls friends. How did he remain elusive for such an atrocious length of time? We will celebrate with the police. Those who pass JAMB examinations at the tenth attempt often celebrate more than those who passed it at first sitting.
While Evans terrorized Amuwo Odofin the police didn't not communicate with the public about this criminal. The police  provided neither a  photograph nor a sketch. For all those years, neither the police, nor the government, placed a bounty on his head, not until two months ago. Where else can this happen? All the while Lagos State government sat astride and was not heard.
The police must find out why the families of victims did not trust them. The public wants to know why the Inspector General's special response team must be involved before high profile kidnappings can be resolved? What equipment and training do they have that an Area Command should not have? But it is not always about equipment. I know some of the victims. I don't know how many of them were properly debriefed. Lagos police commissioner says that some of his officers are rogues. Perhaps there is another DSP Iyamu waiting to be discovered in this case as in the Lawrence Anini case.
Let's celebrate. But we must not miss the scandal waiting to be studied.