By Bose Adelaja
Lagos State Police Command is yet to prosecute Mr. John Paul six days after he was handed over to the Police for reportedly driving a three-inch nail into the skull of his eight years old nephew, Friday Paul.
It was learned that the Sagamu Road Police Division, Ikorodu, which has been handling the matter since Saturday, did not alert the State Police Command until yesterday evening, when Vanguard contacted the Police Public Relations Officer, ASP Olarinde Famous-Cole, for update.
Vanguard had, on Monday, reported that one Mr. Paul allegedly drove a three-inch nail into Friday's skull, who he accused of stealing N500. But the eight-year-old boy denied the act, which infuriated his uncle.
Eyewitnesses said Friday, an orphan, was tortured by his uncle before the nail was driven into his skull. But doctors at Saviour The Rock Hospital, Odogunyan, Ikorodu, successfully removed the nail last Sunday and the boy is said to be recuperating.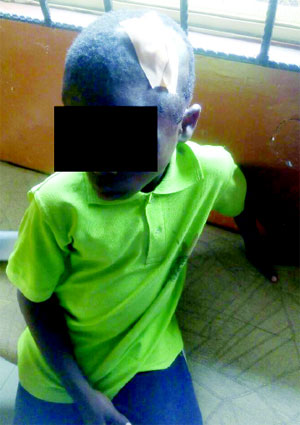 The weekend incident attracted sympathisers, who handed the suspect to the Police in Sagamu Road Division, Ikorodu, but as at yesterday he was yet to be prosecuted.
The PPRO said the case is a sensitive one and the Command may seek the assistance of the state institutions against child abuse or Directorate of Public Prosecutions, DPP, for advice, on the next line of action.
He said: "The case is sensitive and the Police may have to call one of the state institutions against child abuse or Directo-rate of Public Prosecutions for advice before prosecution.
"Keep in mind that the boy is also under-aged. These are all grey areas we have to consider."
Meanwhile, the Senior Medical Doctor with the private hospital, Adelana Odumabo, said he had to rescue the boy first because it is necessary to save life, adding that the deposit was not sufficient but he went the extra mile to rescue the boy.
He added that the boy's health was stable, but that he is still under observation.