By Chris Ochayi
ABUJA: The Pan Niger Delta Youth Leadership Forum, PANDYLF, yesterday, condemned in strong term, the quit order issued by Arewa youths to the effect that all the Igbos living in the 19 Northern States should leave the region before October 1, warning that the notice was an invitation to anarchy in the country.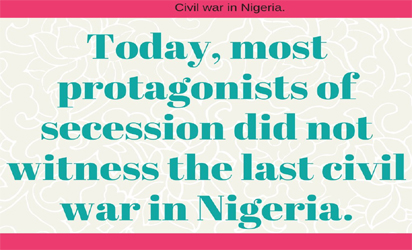 National President of PANDYLF, Mr. Famous, Daunimeghe while reacting to the quit notice during an interview with Vanguard, in Abuja, described the threat as callous, insensitive and unnecessary distractions.
Mr. Daunimeghe, however, called on the security agencies to take immediate action by hunting down and arrest the signatories to the statement and their sponsors with a view to charging them before the competent court of jurisdiction.
The leader of Niger Delta youth body, who noted that the notice if not urgently addressed would connotes serious threat to the peaceful co-existence in the country, said no person or group has any right to threaten people who are going about their legitimate businesses in any part of the country
Mr. Daunimeghe said, "Every citizen of Nigeria has the right to live and transact his or her legitimate businesses any where in the country, this is a right granted under the Constitution of the Federal Republic of Nigeria.
"But we received with a rude shock the announcement that some persons in the name of Arewa youths gathered in Kaduna State to give the Igbos living in the 19 states in the north three months notice within which to quit the region.
"We want to urge security agencies in the country to take decisive action against these youths and their sponsors. They must be arrested and face the wrath of the law. This is callous, insensitive and must be nip in the bud,"
On the sit-at-home order alluded by the Arewa youths, Mr. Daunimeghe said the Indigenous People of Biafra, IPOB, was right to declare a sit-at-home order on May 30, 2017 for all Biafrans to mark the 50th anniversary of the declaration of Biafra State.
He said "It was truth some Biafrans died during the 30-month Nigerian/Biafra civil war and if the group found it imperative to honour and remember those heroes and heroines who lost their lives during the war by declaring sit-at-home, they have the right to choose any mode of mourning in respect of lost ones.
Daunimeghe reminded the Arewa youths to be conscious of the fact that some of their fellow youths are doing their businesses unhindered in other parts of the country, including their leaders who own and control most of the oil wells in the Niger Delta region.