On Friday June 16, 2017 at the Oriental Hotel, Victoria Island, Lagos, billionaire humour merchant, Francis Agoda, popularly known as I Go Dye joined other eminent African leaders to receive the 2017 African Child Prize.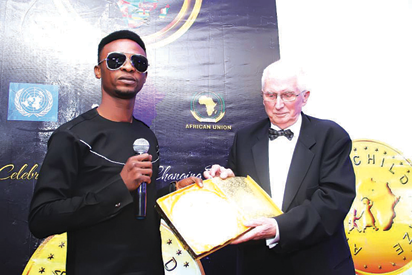 In his appreciation speech, the eloquent Delta-born ace comedian dedicated his award to the gallant men and women of the Nigerian Armed Forces, whom, he said have been resolute in their war against terrorism and commended their singular act of returning some of the abducted Chibok girls, back to the waiting arms of their families
"I thank God Almighty for this honour and also say a big thank you to all those that voted and made it possible for me to be selected. Honestly, the true value of  the world is built on the standard of the child and we all should make sacrifices to make the child safe, happy and loved. I dedicate this award to the Nigerian army,and Military Forces, for giving so much to protect and bringing some of the Chibok girls back, and to the many others that lost their lives in the war against terrorism. I say you are the true heroes of the African child. May God bless you all," he said.
Recall that in 2016 when I Go Dye  was made United World Habitat Ambassador, he dedicated same to Hillary Clinton, who was at the time gunning to be the president of the United States. This award, will probably make him the most decorated comedian in Nigeria, if not in Africa. His other haul of honours include United Nations Millennium Development Goal Ambassador; listed among 100 Most Influential Persons in Africa by Global Icon and 100 Most influential  Deltans not to mentiona host of local and international industry awards, amongst others.
Among the recipients of the African Child Prize on Friday were: President Adama Barrow of Gambia; Dr Oby Ezekwesilli; Her excellency, the Deputy Governor of Rivers State, Mrs Ipalibo Banigo, amongst many others.
I Go Dye is the only comedian honoured in the 'Comic Art and Creativity' after rigorous voting process.