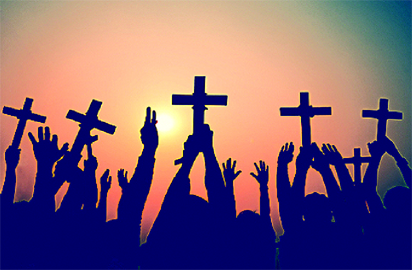 Brethren, we should be grateful to God that has kept us alive to witness the last Sunday in the month of June.  In a couple of days, the sixth month would be gone and we shall be in the seventh month of 2017.
Spare a few minutes to think of the Lord's numerous blessings and you will appreciate the need to thank God.Even as we do this, for many of us, we are yet to meet our goals. For someone out there, who has been jobless for years, job still remains elusive.
For another person, it's been serial miscarriages yet for others, it's simple a question of "will I remain unmarried again this year"?
In the case of another lady, she is yet to get over the shock of a failed relationship and for some one on a sick bed, it's simply, ' will I ever be well again?'.
Have you been duped by a   business partner, or lost money to undesirable elements?
Or are you financially crippled because of the economic situation in our country? Be strong and be of good faith.
Challenges manifest in different forms but by the power of God, all challenges have expiry dates.
Even those   that we see as wealthy and influential, still have cause to worry about something. I don't know what you have lost, a marriage partner, a baby, a job or even a spouse, God is able to restore.
In the name of Jesus whatever it is that has caused you tears of sorrow, the Lord will replace with tears of joy this season.
When we talk of restoration, it is simply defined as " the act of restoring something or someone to a satisfactory state". Let's consider the promise of the Lord to restore everything that gave us joy but was lost to the devil and his agents. The book of Joel 2 vs 25 and 26 "  And I will restore  to you the  years that the locust  hath eaten, the cankerworm, and the caterpillar, and the palmerworm, my great army which I sent among you.
And ye shall eat in plenty, and be satisfied, and praise the name of the Lord your God, that hath dealt wondrously with you; and my people shall never be ashamed".
Note that what the Holy Bible refers to as cankerworm, caterpillar, the palmerworm, are destroyers.  In most cases, they are human beings.   People who derive joy in seeing others suffer.
Let's look at the case of a lady, I will call Lady Gold and this is a real life story. She came from a large family of non- Christians but she chose to be a Christian.  Her family members vowed to deal with her.  No one could tell what they did but at over 50 years she remained unmarried.  Even as I write today, she is still hopeful that one day she will get married.
Unlike several other ladies, who break another woman's home just to have children.  Lady Gold insists she will not do that.
Rather, she is determined to wait for the promise of God.
I use this lady as a point of contact to anyone who is in this condition or whose son or daughter is going through a similar challenge, because it is the Lord that spoke in Genesis 2 vs. 18 " It is not good that a man should be alone, I will make him a help meet for him". Before this year ends, in the name that is above all names, the name of Jesus,  your marriage will take place.   People will congratulate you. Your status will change.
Have you lost a job?  It is a temporary set back. God is about to give you   a better job.
I'll share the testimony of a brother who was sacked in a company early this year.   He said when they received their sack letters; his colleagues cursed the management   using unprintable words.
He didn't do that; he only turned to the Lord for help.
Our brother decided to live by the words of Psalm 1 vs . 1&2 " Blessed is the man that walketh not in the counsel of the ungodly, nor standeth in the way of sinners, nor sitteth in the seat of the scornful. But his delight is in the law of the Lord , and in his law doth he meditate day and night".
This brother instead of cursing or raining abuses like his colleagues went into prayer backed with action.  He prayed and continued to search.
Within a short while God answered him.  He got three offers and had to make a choice.
Finally, he settled for a job that gave him three times the income he earned before he was sacked.   Did I hear you say in this country?  Yes, it happened here in Lagos.  God is still on his throne.  He is faithful to his word that those who trust in him will not be put to shame.
Have you had series of IVF that has failed to give you a child?  Call unto the one who gives children.  Call on him repeatedly. Ask for his mercy and the Lord will have mercy on you.
In the name of Jesus, whatever is causing you to lose babies, the Lord will uproot from your body and you will have your child.
Recently, a friend had a baby.   During my discussion with her, she told me her scan showed two babies but one ectopic, so, her doctors had to remove the baby.  She was left with one.  Now this happened in Europe. On the day of the delivery by Caesarian Section, there were complications, she was opened up but the baby didn't come out.   Her surgeon panicked.   Senior doctors were called in were also confused. The husband began to pray.  He called his Pastor in Nigeria and intense prayers began.  Eventually, within a short while, the baby was brought out.
Doctors later told her husband, what they saw was unusual and they were at the point of either losing the baby or the mother or both.
But God Almighty, the one who says yes and no one can say no saved mother and child.
My friend later told me that she was told that in her husband's family, all first wives die. Either at childbirth or by other means but she and her husband were prayerful Christians.  They had been through series of challenges but God saw them through.
God intervened during delivery and used her to break the yoke. Her safe deliver surprised her in-laws.
Brethren, what am I saying?   Sometimes people are victims of household wickedness that is not their making.
The effect of idols that our parents worshipped before the advent of Christianity is the reason why some of us are going through inexplicable challenges. The good news is that the anointing of the Holy Spirit is able to break all yokes.
Brethren, let's share this prayer point " Every evil altar that has been erected in my family, in my wife's family, in my husband's family, that is working against my life, Lord let your blood destroy in the name of Jesus".
Had this sister and her husband not known the Lord, she would be dead by now.
We should always bear in mind the promise of God to bless us.  As children of God serving him and living by his word, his word will be fulfilled in our lives. This does not mean we would have no challenges but with the power of God we shall overcome.
Let his promise in Gen. 22 vs.17 " That in blessing, I will bless thee, and in multiplying I will multiply thy seed as the stars of the heaven and as the sand which is upon the sea shore; and they seed shall possess the gate of his enemies" ring in your ears.   This is God's promise to us concerning pro-creation.
It is also applicable in every area that we need his blessing.
Constantly remind him of his word and he will give you over flowing blessings.
Joy will never cease in your home in Jesus name.