By Demola Akinyemi
ILORIN —The Federal Government said, weekend, it would continue to hold on to former National Security Adviser, Colonel Sambo Dasuki (retd),  and leader of Islamic Movement of Nigeria, IMN, El-Zakzaky, despite court orders that they be released, in the interest of national security.
Minister of Information,Culture and Tourism, Alhaji Lai Mohammed, who disclosed this in an interview with journalists, after a Ramadan lecture in his home town, Oro, in Irepodun Local Government Area of Kwara State, said Dasuki had bluntly refused to disclose the whereabouts of $1.2 billion traceable to him.
According to him, unless Dasuki does that, he will not be released by the Federal Government.
He said further that Dasuki was in custody of a sensitive document which could not be divulged for national security reasons, stressing that at any point in time, government was bound to take a hard decision between personal liberty and national security.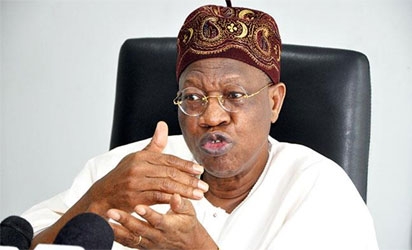 He said: "At every point in time, a government will make very hard decision between your personal liberty and national security.
"We are saying today that in the case of both El-Zakzaky and Dasuki, we are talking about national security. I have said on several platforms that it might not be palatable to many people, but if it is evident that one person moved $1.2 billion in two transactions and up till today he has refused to tell government who he gave the money to and you are asking us to give him bail.
"If he's granted bail, whether he stays in Nigeria or elsewhere,  $1.2 billion can destabilize any country. We take responsibility for what we are doing because we believe that at the end of the day, we either err on the side of national security or personal safety.
"We are also saying that some of these people are in possession of the documents, which we cannot divulge for national security. But if a country is faced with threats like these, we have to take certain decisions which looks to people outside as though we're breaking the human rights of some people."
The minister also expressed serious concern over what he described as the impunity with which people made very inflammatory speeches without caring for the consequences.
"The advent of the social media, which is largely faceless and has so much power but absolutely has no control, has fuelled the phenomenon."