Extortion, corruption and fear; violence, hunger and sometimes even death: for west African migrants dreaming of reaching Europe, the road to get there can be an absolute minefield.
– Departure –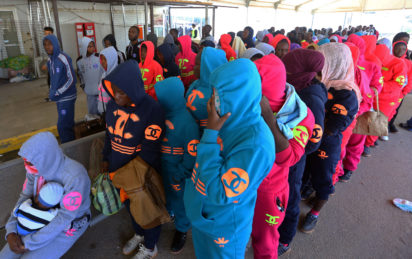 Whether it's The Gambia, Ivory Coast, Senegal or Nigeria, everything starts with the "hustlers" — slang for the middlemen or fixers who organise the trip. Their honesty and prices vary, with the would-be migrant usually deceived about the welcome expected in Europe.
Many possess no official documents from their home country, and do not understand illegal status in Europe.
Most are ignorant about the extreme difficulties they will encounter en route. "We didn't know we were risking our lives," said Kante Sekou, 27, who gave up upon reaching Libya.
Hustlers demand between 200,000 to one million CFA francs (300-1,500 euros/$330-$1,660) per person for a journey they claim will end up in Europe, but which often goes no further than Agadez in central Niger, or Libya.
– Towards Niger –
Despite mounting pressure from Niamey to halt the flow of people heading to Europe, Niger remains a key route on the migrant trail.
Even before getting there, migrants are often "ripped off" by unscrupulous police and customs officials.
According to witnesses, those in Burkina Faso appear to be particularly greedy, with migrants speaking of being held in overflowing cells until they pay up.
Once in Niger, officers also take small "commissions" at each roadblock. Bus companies have a tendency to group migrants and non-migrants in different vehicles, with officers tipped off about which to approach, a bus company source said.
In 2016, the International Organization for Migration (IOM) observed around 335,000 migrants heading northwards out of Niger.
But the numbers are unclear because the IOM only counts those crossing its own checkpoints.
– Agadez: a key crossroads –
This city in central Niger is a key crossroad, with routes through it leading to Libya and Algeria.
However, with the increasing number of checks, several new routes have opened up from the southern city of Zinder, offering an eastern route to Libya, while others bypass Agadez to the west, leaving from the southwestern city of Dosso, people smugglers say.
In Agadez, migrants are held in "ghettos" or "hostels" owned by the smugglers — these are usually simple plots surrounded by walls, which sometimes have a hut, where the migrants huddle under tarps as shade from the sun. Usually, there is no running water or electricity.
Over the past few months, ghettos visible from the city centre have disappeared with people taken to homes in the suburbs. According to one fixer, that is the best way to avoid police controls and also means they can leave the city without travelling along main roads.
Hustlers pick up migrants from bus stations in Agadez. Usually grouped by nationality, they have often run out of money by this stage, meaning the hustlers have to arrange extra funds through phone contact with their families.
While waiting for departure, migrants live hand-to-mouth in precarious circumstances with men doing odd jobs and women sometimes resorting to prostitution.
– Sudden departure –
Migrants are not notified in advance about their departure. They are put in the back of 4×4 pick-up trucks which can carry up to 29 passengers with their legs dangling over the sides. Sticks are wedged between the luggage so passengers can hold on.
To cope with the sand and heat, they must have on them a hat, gloves, sunglasses, a jacket and water. Since the police crackdown, departures tend to happen in the pre-dawn hours.
A convoy is usually made up of three to five vehicles, with migrants sometimes transferred out of the city before being put into trucks in order to avoid roadblocks.
A few months ago, passage to Libya cost up to 300,000 CFA francs but the crackdown has seen prices ballooning with the rate easily hitting 400,000 CFA francs and sometimes rising as high as a million, a local official said.
– Bandits in the desert –
"It's 750 kilometres (460 miles) and three days' drive to the border," says one smuggler who refused to give his name. "We drive 24-7. We stop only to drink tea, five minutes for the restroom. I carry up to 26 people. We leave in a convoy, never alone.
"We don't stop because we are afraid of bandits and the police. The bandits are armed. They can hijack your vehicle and leave you in the desert. So it's death," he said.
If there is an attack, "we try to hide the Thuraya (satellite phone) to bury it," he said.
"The bandits have people in town. When a car leaves the city, they inform them."
If soldiers stop them, everyone is brought back to the city and the cars are impounded.
For the migrants, it is a difficult road. They have to hold on without falling, and be sparing with their food and water. Many throw up on the way and arrive at their destination exhausted.
Some even die en route. Earlier this month, at least 44 people, among them women and babies, died of thirst after their vehicle broke down in the desert. "This desert is full of migrants' bodies," lamented Interior Minister Mohamed Bazoum.
– Libya: apocalyptic lawlessness –
Most migrants returning from Libya describe an apocalyptic lawlessness with armed groups extorting and exploiting them, with many speaking of theft, kidnapping and torture. Others speak of being jailed in "private" prisons and only released when their families paid a ransom.
Others speak of having to work for miserable wages or in slavery-like conditions. Even so, for most, Libya is an unavoidable stop for those hoping to catch a boat to Europe.