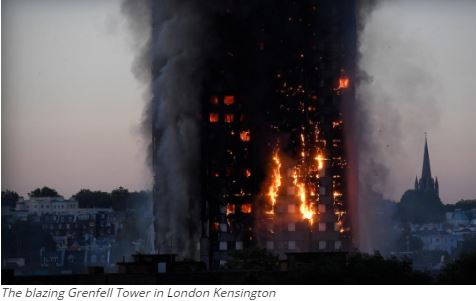 The blazing Grenfell Tower in London Kensington
The chief executive of Kensington and Chelsea council Nicholas Holgate has quit following a barrage of criticism over its response to the Grenfell Tower fire tragedy.
Holgate stepped down saying it would have been a "distraction" if he had stayed in his post after the "heart-breaking tragedy", which left at least 79 feared dead.
In a statement, he said the Communities and Local Government Secretary had "required the leader of the council to seek my resignation" on Tuesday.
Mr Holgate said: "Serving the families so desperately affected by the heart-breaking tragedy at Grenfell Tower remains the highest priority of the council."
He said there is a "huge amount" still to do for the victims "in very challenging circumstances" and added: "If I stayed in post, my presence would be a distraction."
He continued: "I strongly believe that councillors and officers have always endeavoured to have the interests of our residents at heart and will continue to do so."
Council leader Nicholas Paget-Brown said he accepted the resignation "with great regret" and added that "the council will now need to work in a new way with different partners to take this forward".
Mr Holgate's resignation came as it emerged cyanide gas released as insulation boards burned may have contributed to deaths at Grenfell Tower.
Experts said the thermal lining, fitted in the cladding process, is said to give off the deadly gas when alight.
Prof Richard Hull said: "It has been an accident waiting to happen.
Fire toxicity experts claim their positioning between the new cladding facade and the existing '70s brickwork of the building meant every flat could have been filled with enough gas to kill those inside.
Three of those injured in the fire are known to have been treated with an antidote for hydrogen cyanide poisoning in hospital but it is thought the number of those affected may be higher.