British police on Thursday said they were investigating London's fire service over their order for residents to "stay put" during the Grenfell Tower inferno that killed 71 people last year.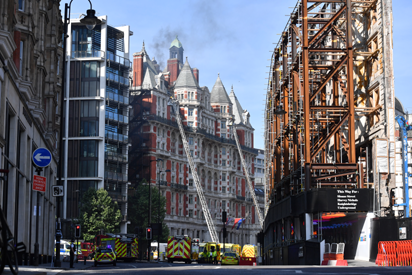 The policy was "part of our assessment of what happened and therefore falls within the investigation", Detective Superintendent Matt Bonner said Thursday, explaining that police would examine the evidence to see if health and safety laws were broken.
The London Fire Brigade has been criticised for taking two hours to order a full evacuation, but has defended its actions, saying there had been "no obvious and safe alternative strategy".
Police commander Stuart Cundy earlier said the force was "duty bound" to look into the fire service's actions.
Scotland Yard on Thursday also arrested eight men and one woman for fraudulent claims made in the wake of last year's fire.
"All of the offences police are investigating are linked to people who have fraudulently benefited through housing or allowances, by claiming to be victims of the fire," said police.
"The amounts involved range from £20,000 ($26,850, 22,700 euros) to £100,000."
The arrests were made during a series of dawn raids across London.
"It is completely unacceptable that people would seek to profit from such a human tragedy, and try and attach themselves to a community that they are not part of," said Detective Superintendent Matt Bonner.
Five people have already been convicted of fraudulent claims over the fire, which engulfed the 24-storey residential west London tower in the early hours of June 14.
Mohammad Gamoota, 31, was last week sentenced to 18 months behind bars, while serial fraudster Anh Nhu Nguyen, 53, was jailed for 21 months in February after pretending his family was killed in the block to claim relief funds.
Joyce Msokeri, 47, was jailed for four and a half years in April after claiming cash handouts and other donations by pretending to be a grief-stricken victim of the disaster.
Meanwhile, 51-year-old Elaine Douglas and Tommy Brooks, 52 pleaded guilty earlier this week to fraudulently claiming tens of thousands of pounds worth of hotel accommodation and financial support.
They will be sentenced on July 13.