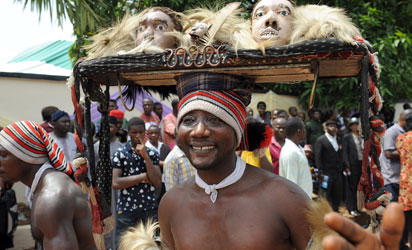 (FILES)- A March 2, 2012 file photo shows an Ohafia cultural troupe entertaining bystanders during the burial of Nigeria's secessionist leader Odumegwu Ojukwu at his native Nnewi country home, in Anambra State eastern Nigeria. Odumegwu Ojukwu, who championed the campaign for an independent Republic of Biafra in eastern Nigeria in the 1960s culminating in a 30-month civil war which left more than a million dead was buried at his Nnewi family home in Anambra State. Its name is synonomous with the declaration of independence and updates on the brutal conflict that followed, but nearly 50 years after Nigeria's civil war, Radio Biafra is again making headlines. AFP PHOTO
bY Obi Nwakanma
Three Okigbos startled the world in the 20th century: Pius, the economist, the poet Christopher, and Bede, plant pathologist and geneticist. Bede Nwoye Okigbo was the last of that trinity – that is, the last to leave the earthly scene by his death in April. It is the final closing of the chapter of a remarkable era.
Born in 1927 in Ojoto-Uno to the very large Okigbo family of Ire, Ojoto, Bede Okigbo's life took a very dramatic and perhaps fortuitous turn when his mother died in 1935 and he was taken in by his uncle, the school master James Okigbo, to live with his own family. I have told this story in large part in my biography of his cousin, the poet Christopher Okigbo, and should summarize it here of how the shaping factors in Bede Okigbo's life was defined by that tragic moment of loss.
Bede Okigbo's father, Nnaebue, was the oldest son of the formidable Eze Okigbo, whose astute and shrewd reading of the unfolding times of colonialism led him to inviting "the whitemen" to establish a school in Ojoto. Eze Okigbo then went round imploring Ojoto people to send their sons to the school. The Ojoto, of course, like most Igbo in that era were suspicious of European ways and refused to send their sons to the whiteman's school.
The school in Ojoto closed down for lack of patronage, and Eze Okigbo was compelled as a result to send off his own sons to schools as far as Onitsha, some to the Catholics, and some to the CMS schools, his idea being, like Ezeulu in Chinua Achebe's Arrow of God, to establish some kind of surveillance on the Europeans with his own sons who would be his "eyes and ears" in the unfolding white man's new world of colonialism. As a result he sent all his sons to the schools, except his first born son, Nnaebue, whom he retained around him to secure the ancient and traditional ways, and whom he rather than send to school, initiated into the Ozo, the highest society for accomplished men in Igbo land.
One of those sons of Eze Okigbo, Mr. James Okoyeodu Okigbo – whose sons, Lawrence, Pius, and Christopher – from "Anna, of the panel oblongs" came to prominence – became accomplished in that era, as an educator by the middle of the 1920s. James Okigbo was prominent in the Catholic school system, working all over Igbo land, including as Headmaster in Schools like St. Josephs Asaba, Amawbia, Ekwulobia, and Adazi, one of the most important early Catholic centers in Eastern Nigeria.
It was as school master that James Okigbo had his greatest impact on his nephew, Bede, whom he took in 1935 to live with him. Bede's mother had just died, like Christopher's mother, Anna, that year from the cholera epidemic that swept through the area. It was to protect the young child from loss by bringing him to grow with his cousins of the same age who themselves had been made lonely by grief. Bede thus grew up with Pius and Christopher Okigbo, under the strict purview of their school master father.
But it has been remarked by those closest to them that of these Okigbos, Bede came closest to absorbing the old school master's moral codes. Where his cousins were agnostic or bohemian, Bede was thoroughly catholic and convinced; and unwilling to take an unpredictable step. Where the poet Christopher was mercurial, Bede, the scientist, was solid, and measured. Yet, there was the radical element – perhaps the quality of his genius – that accounts for his unorthodoxy.
He became one of the world's leading geneticists in the 20th century. Bede Okigbo was, as his peers did remark of him at various times, a man who worked with disciplined, and unobtrusive efficiency. After Standard Six in Adazi, he was headed to the Catholic Christ the King College (CKC) Onitsha in 1943. But some tiff over his cousin, Pius Okigbo's breaking of his bonds with the church and disagreement with the formidable Father Leidan foreclosed that. As fate would determine it, a second wave of admissions into the elite Government College Umuahia that year, saw Bede Okigbo heading to school at Umuahia. The Government College had been closed down in 1939 following WW II when it served as a prisoners of war camp for German and Italian prisoners of war from the Cameroons. However in 1941 the colonial government, owners of the school decided to reopen Umuahia. The new set of Umuahia students had been established at Kings College, Lagos in 1942 as "Umuahia form 1" and 1943 as "Umuahia form 2." In April 1943, Reginald Jumbo had coordinated a relocation of the school to its campus in Umudike, and by the time classes resumed on July 2, 1943, ten new students had been admitted to join the twenty students already established in the 1943 class at King's College as "Umuahia form 2" following a special entrance examination. Among that ten included Bede Okigbo.
Among Bede Okigbo's classmates at Umuahia include the novelist Chinua Achebe, who was admitted in 1944, but was among a group of seven boys from his class on a "double promotion" to join the class of 1943 in 1945, the year Bede's cousin, the poet, Christopher Okigbo, was admitted to the school.
Umuahia's extensive grounds apparently provoked Bede Okigbo's interest as a naturalist, as a budding entomologist, and as a farmer. At Umuahia, he was known as the best student farmer, and always to be found at the school's vast experimental farms. His biology master, Barry Cozens, who wrote the book on Tropical Biology was the head of the Eastern Fields Society with its head office at the Government College. Among Bede Okigbo's classmates at Umuahia in fact was also Dr. O.O. Uguru, later Director of the College of Agriculture, Umudike, who wrote the most formidable book on Tropical Agriculture for Colleges.
But Bede Okigbo took his interests to newer heights. After Umuahia, he went to Moore Plantation in Ibadan, from 1948 to 1952, and then on to Washington State University, alongside Alex Ekwueme, but he to Pullman, where he earned his degree in Botany, and then at Cornell, where he earned a PhD in Agronomy in 1958. He returned to Ibadan as senior research scientist in 1958, but in 1960 was appointed senior Lecturer, and later, the first Dean of the Agricultural Sciences at the University of Nigeria, Nsukka. His far-reaching researches in genetic modifications also led to the first trial hybrid experiment with the traditional Igbo oxen and cows.
The vast Nsukka herd which Bede Okigbo transferred to the Ogoja research station at the hints of war, were all slaughtered by the Federal forces in 1967. After Babs-Fafunwa left Nsukka as Acting Vice-Chancellor, the lot fell on Bede Okigbo, until the substantial appointment of Professor Eni Njoku by Ojukwu as Vice-chancellor of Nsukka.
Bede Okigbo's most remarkable work was as Director of the Biafran Land Army where his work to stem hunger in Biafra led to discoveries of the nutritional values of the "Ugu" and the "okpodudu" beans, which his cousin, the poet, loved to eat so much. Bede Okigbo- the timbre of his deep sonorous voice booming and rattling the panes – taught Genetics at Nsukka, but from Nsukka, he became Director-General of the International Institute of Tropical Agriculture (IITA), Ibadan, and later, Director of the Natural Resources program of the United Nations University in Japan. In his 1980 Ahiajoku lectures – one of the first in that series of heavyweight thinkers – "Plants and Food in Igbo Culture" – Bede Okigbo reminded us of the incredible innovations that undergirds our food security and food production.
Among his many accomplishment was his writing the first Science Text book in Igbo: Uwa Gabara Anyi Gburugburu. One of the greatest mistakes of the trustees of the National Merit Award is that it did not award the National Order of Merit to one of the most deserving of it, and one who should have been among the first Nigerians to be so honored: Bede Nwoye Okigbo who now passes on.