By Samuel Oyadongha & Emem Idio
BYENAGOA— Bayelsa State Government, yesterday, said that for the first time, it recorded N1.13 billion as its internally generated revenue (IGR) for the month of March, 2017 as against N983 million declared in February, due to government's aggressive drive to shore up revenue for the state.
Deputy state governor, Rear Admiral Gboribiogha John Jonah (retd), who announced this during the transparency briefing for April, 2017 in Yenagoa, said the government was yet to receive the second tranche of the Paris Club refund.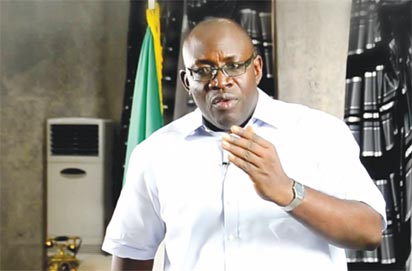 According to him, the state government received N14.5 billion in November last year, out of the N21.168 billion due the state for the first tranche of the Paris Club refund.
He  disclosed the receipt of additional N6.61 billion in the month of March, as the balance of the N21.168 billion, out of which N1.9 billion was released to the local government areas.
His words: "The Paris Club refund to states is not a gift from the Federal Government to pay salaries.  It is state governments' money that was deducted without consulting the states. At a meeting, it was decided that the money should be paid in two instalments.
"A chart was drawn up and the entitlements of every state were written. But, the Federal Ministry of Finance and the Central Bank of Nigeria, CBN, decided that, if that money was released to states for payment of salaries, there would be too much money in circulation. It was then decided that the money would be paid in four instalments, which is 25 per cent at a time.
"When the first 25 per was paid, Bayelsa State could have got N21.168 billion, but then, when the money came, they only released to us, N14.5 billion.
"The first tranche was supposed to have been N21.168 billion. But again, that N14.5 billion was not for the state government alone, because out of the amount, N1.3 billion was for the local government councils.   So, what actually came to the state government was the balance of N13.2 billion.
"I am telling Bayelsans  that the Federal Government, apart from the first tranche, has not released one kobo to any state."