…It's a tall dream —Gov Bello
By Henry Umoru & Boluwaji Obahopo
ABUJA — Chairman, Senate Committee on the Federal Capital Territory, Senator Dino Melaye (APC, Kogi West), yesterday, called for an emergency rule in his home state, Kogi, following allegations of two assassination attempts on his life by the Kogi State Governor, Mr. Yahaya Bello.
Senator Melaye, whose call came under Order 43 of the Senate Standing Rule during yesterday's plenary, also prevailed on the Senate to order the Inspector-General of Police, Ibrahim Idris, to urgently undertake an audit of police armoury in Kogi State police command.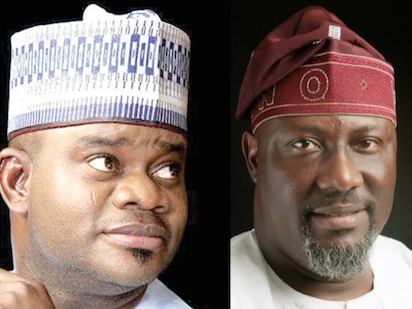 But  Kogi State governor, Yahaya Bello, in a swift reaction, described Melaye's call for a state of emergency in the state as a tall dream.
Melaye, who promised to come to the floor with a motion on his alleged assassination today, said his decision to prevail on the President to declare a state of emergency became imperative because of what he described as the increasing spate of insecurity and anarchy in Kogi State.
He added that the state had never experienced the high number of kidnappings, killings and anarchy before the emergence of Yahaya Bello as governor.
It's a tall dream —Gov Bello
Meanwhile, Governor Yahaya Bello has described as a "tall dream" the call by Senator Dino Melaye for a state of emergency in Kogi State.
Bello said it was now crystal clear that Senator Melaye orchestrated Monday's violence intentionally to create room for him to make such request sound reasonable.
The governor, who spoke through his Director-General, Media and Publicity, Kingsley Fanwo, said: "We consider that a tall dream. Was he saying the state was plunged into violence to achieve that?
"What happened on Monday, June 12, is a clear case of conspiracy against the government and people of Kogi State. Political office comes with restraints. Brakes are not to feed fear, but to control destructive speed.
"Kogi State is one of the most peaceful in the country today, courtesy of the excellent commitment of the governor to safety of lives and property. State of emergency is always a last resort."
''Kogi will never be plunged into such a state. We reiterate our confidence in the security agencies to get to the root of June 12 crisis in Lokoja. Government will always work to achieve a peaceful Kogi State."
He said amid the provocative actions of Senator Melaye, the state government had chosen to keep mute not because of fear but to allow security operatives do their job.
"The state government will not play politics with human lives. We won't jeopardize ongoing investigations by security agencies who have promised to get to the roots of the crisis. We have confidence in the security agencies and will wait patiently for their reports. For now, we have nothing to say."