By Ben Efe
Former Nigerian long jumper, Ayo Aladefa, 47 died recently and was buried in the United States of America. His sister Taiwo Aladefa has claimed that Ayo's early demise was as a result of an injury he sustained while representing Nigeria.
The elder Aladefa won silver for Nigeria at the maiden African championships 1989 in Lagos and in the second edition 1990 in Cairo, Egypt he won gold. He also won gold in Mauritius 1992 and came second at the 1993 edition in Durban South Africa. Ayo represented Nigeria at the 1994 Commonwealth Games in Victoria Canada and the1999 All Africa Games held in South Africa.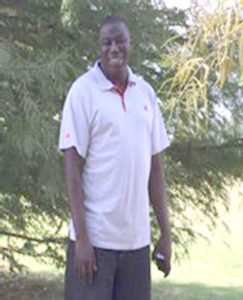 Taiwo who herself was African champion in the 100m hurdles at the 1995 All Africa Games with a games record of 12.98 seconds, said Ayo picked up a double knee injury, from which he never fully recovered. She stated that Ayo underwent several surgeries, which hindered his mobility.
"He was one of Africa's best jumpers, It was sad the way he had to go. The ailment that eventually killed him was brought on by his injuries sustained while representing our dear Nigeria.
"Both knee injuries ensured limited mobility from surgeries upon surgeries. And it led to weight gain.
"He had to cope with diabetes…which he eventually controlled but ended up dying," Taiwo lamented.
"He was such a joy and source of strength for so many… humble and quiet..but funny. It was hard for our family to take most especially our mum. Her kids left home at early age to pursue their passion for sports and just as she's getting used to having all of us around her without moving up and down as we were doing from youth… one of us died."
She submitted that while nursing his health Ayo did not hear from any Nigerian sports administrator and it goes to show that the welfare of Nigerian sports men and women was not of much concern to those in authority.
"I can only hope and pray that new AFN administration takes the welfare of athletes seriously and not just abandoned them any more. We never heard from anyone in Nigeria while he was down with illness.
"It was only Mary Onyali and my sports family here in US who reached out. It's very disheartening but thank God for the bonds with our sports family here in US.. they have been very supportive…
" Old colleagues rose up and supported me and my sibling, Gabriel Lessor, Mohammed Tijani, Lasun Fakeye, Udeme Ekpeyong were among his pall-bearers,"