By Anayo Okoli
UMUAHIA—FOR 11 year-old Miss  Esther Emeka Ude, life has been hell. The Primary five pupil of Divine Learning Academy, Aba, Abia State has been in severe pains since December 30, 2016, when she sustained a third degree burns as a result of fire incidents caused by a lantern explosion resulting from adulterated kerosene which set their room ablaze while they were asleep.
Esther is still agonizing in pains at the Michael Okpara ward, of the Federal Medical Centre, FMC, Umuahia, where she was rushed to shortly after the fire incident. According to family sources, the fire accident occurred when Esther was asleep while her other siblings were awake. Her siblings escaped from the inferno while Esther was trapped inside the room without their knowledge.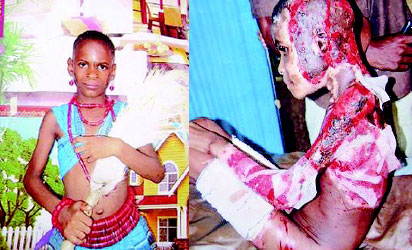 It was said that the door to the room refused to open while little Esther was battling to come out until the people later broke the door. By the time she was eventually rescued, Esther had been severely burnt. Today, Esther needs help and the grace of God to enable her pull through this situation. Esther has undergone several surgeries but needs assistance for proper medical attention.   Esther's father, 48 year old Emeka Ude, and native of Akoli Ada in Ebonyi State and his wife, Mary, said that they had spent all their savings on Esther's treatment.
"I have spent all my money in the treatment of my daughter. My wife used to trade on clothes but since the incident happened on December 30, 2016, her business has been grounded as she has been taking care of the girl in the hospital.
"We have exhausted all our life savings, exhausted all avenues of borrowing and we now beg to feed. We are calling on the good people of Nigeria, Abia and Ebonyi States to help us, not because of us as a people but for the sake of God. Please come to our aide because we cannot steal and we do not want our daughter to die," Ude said.
Based on her condition, the Medical Social Department of the FMC, Umuahia, wrote a letter requesting aid from good spirited individuals