By Obadiah Mailafia
I AM writing this piece from the quiet ambience of Brussels whilst on the conference circuit. I arrived last week almost the same day  as did President Donald J. Trump who detoured to Europe from the Middle East in a diplomatic offensive to mend fences with his NATO and EU allies. Trump seems to be rewriting the classic rulebook of diplomacy and statecraft as some of us have known it since we learned to read the first treatise on government.
I lived in Brussels for five years; a city I have come to love for its quiet sophistication and laid-back, old-world charm. Belgium is a relatively small European country of 10 million people. But it has a GDP of US$454 billion, about the same as Nigeria's, with a population of almost 200 million people. Belgium has a per capita GDP of 40,000 compared to our miserable US$2,600.
Most things work in Brussels – power, public utilities, transportation, trains and what have you. You can enjoy an evening walk down the fashionable Avenue Louise and know that you will be safe and unmolested. When I tried to use my old SIM card I discovered it had been disabled because I hadn't updated my registration. On trying to get a new one, I forgot my ID card. The gentleman in-charge of the little stall selling SIM cards was adamant that I had to go and bring my ID before he could be of any help.
In most parts of Europe you cannot access any of the public services without some form of identification.  Things work in the prosperous democracies largely because of the strength of their institutions. Since Bonaparte in the eighteenth century, every government in Europe makes it a point of knowing every single citizen and where they live. It is the first law of public administration.
By contrast, Nigeria is a country-of-anything-goes. At a dinner held in my honour by a dear Swedish friend, someone joked about how he entered Nigeria from the Benin border without the requisite visa. They said all you needed to do was to hide some dollar bills inside the passport while passing it to immigration officials. They even devised a name for it – Nigerian dollar visa – amidst raucous  laughter fuelled by vintage Bordeaux.  I pretended to be laughing along with everyone, but was, in actual fact, at the point of tears.
This is how it comes about that all sorts of reptilian bandits can come to our country, commit all manner of crimes and scram back across the border. It drove home to me the fact that our collective  failure as a country is, quite simply, a failure of institutions.
Economic prosperity in our twenty-first century industrial civilisation is anchored on three fundamental pillars: first, ability of the state to secure the common peace and to establish the key institutions of civil government; second, respect for the rule of law and for due process; and third, enforcement of property rights and business contracts in the context of an increasingly open and competitive free market economy. Nigeria remains rather weak with regards to all of those three pillars.
One major area of our national failing is the oil sector. Last week Thursday 25 May, it was reported that the Upper chamber of our parliament had at last passed the Petroleum Industry Governance Bill, PIGB, that had been on the backburner for a decade, thanks to the cartels and collusive oil companies who did all they could to kill it.  This latest news gives us a glimmer of hope.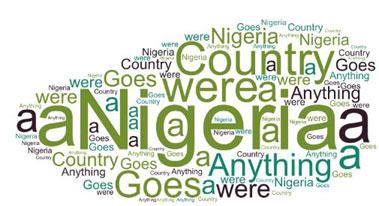 According to some estimates, Nigeria has earned almost US$1 trillion from the oil sector since 1980. Some US$400 billion of this national patrimony has been haemorrhaged abroad. The petroleum sector has remained the bastion of corruption, rent-seeking and pillage. During the IBB military era, so-called "Dedication Accounts" were opened abroad as a vehicle for siphoning off our national heritage for the benefit of corrupt tyrants and their cronies. Succeeding governments — military as well as civilian – treated the NNPC as a cash cow to be milked to the point of death. Remarkably, the NNPC have never published an audit report for the better part of forty years. They continue to operate on the basis of secrecy and Byzantine maladministration. All sorts of slush funds are placed at the disposal of high officials, party apparatchiks and traditional rulers. The Ghanaians who came to the oil business only yesterday have a far more enlightened system than ours.
There is also the problem of oil theft spearheaded by Niger Delta warlords in collusion with the navy, politicians and reptilian types from as far afield as Lebanon and Ukraine. There is anecdotal evidence that oil companies have been stealing our crude on a staggering scale for decades. We are perhaps the only OPEC country that does not apply the metering system to crude oil lifting. And we are certainly the only country that allocates oil blocks to individuals rather than firms.
The whole business smells of Mafioso, cartels, reptiles, guns and goons.
The passing of the PIGB by the Senate is therefore a welcome development; perhaps one major step towards redeeming the lacklustre image of the national assembly in the eyes of the long-suffering Nigerian people.
Once finalised and assented to, the issue will ultimately be one of implementation. There are ample lessons to be drawn from the success of several oil exporting countries. Saudi-Aramco, for example, is a global energy company with assets of about US$1 trillion dollars. The Saudis are hoping to sell a percentage of the shares in a deal worth about US$300 billion. There is also Petronas of Malaysia, a well-run company with assets of US$135.63 billion. Until its recent corruption problems, Petrobras of Brazil, with assets worth some US$182 billion, was among the most forward-looking energy companies in the emerging world.
For Nigeria, always the latecomer, it may be morning yet on creation. But who would not agree that it's better late than never?