By Egufe Yafugborhi
WARRI—Delta State Government, yesterday,  inaugurated the harmonised Interim Management Committee for war-torn oil bearing Ugborodo community, Warri South-West Local Government Area of the state, with a year's mandate to lead the community towards a constitutionally elected leadership.
Secretary to the State Government, Ovie Festus Agas, before inaugurating the 51-man body on behalf of the state governor  at Governor's Office Annex, Warri, clarified that government interest in the development did not involve determining the choice of appointees.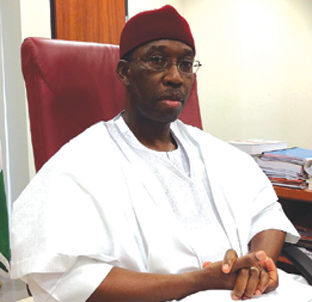 Agas said, "This committee today is not appointed by the state government. It is not Governor Okowa, not the Secretary to the State Government that made this list. It is as a result of a participatory meeting held on January 15, 2015. We had members of the council of elders in attendance.
"At that meeting, we agreed there was need to have an all encompassing body. The various towns and villages in Ugborodo were made to nominate their representatives. At the end of it, the committee, in its wisdom, was made to have an executive in place which they have done.
"Crisis is inevitable in any human community, but if it is left unchecked, it becomes inimical to orderly development of progress of society. We should, as children of Ugborodo, work together in peace so that our disagreement will not scare investors away or lead to the relocation of existing ones."
The committee's terms of reference, as listed by Agas, include review of the various versions of the Ugborodo Trust Constitution, collation and review of imputes from all communities and ratification by congress of Ugborodo people.
When the trust instrument is eventually ratified, the committee, chaired by Austin Oborogbeyi, is also expected to give it legal stamp, submit the particulars to the Corporate Affairs Commission, nominate registered trustees, ensure security clearance for them and supervise the process for election of a substantive community trust.
Shortly after inauguration of the 15 man Executive Committee of the 51 man body, Oborogbeyi, it's chairman, said, "The assignment is daunting, but with the calibre of men of the committee, we will not disappoint. We will operate with 13 sub committees, so as not to put too much power at the centre.
"On the registered trustees to be screened by security agents, we cannot do it alone. We will seek assistance of government, particularly, the Justice Ministry, to do thorough job of it."
Those inaugurated include Austin Oboroegbeyi, Chairman, Emma Meke (1st Vice Chairman), Austin Ajurenmisan (2nd Vice Chairman), Dr. Ayo Ayomike (Secretary), Alex Eyengho (Assistant Secretary), Mr. Mike Okoturo (P.R.O.), Mr. Alexie Wawe (Asst. P.R.O.), Mrs. Roseline Asin (Treasurer) and Mr. Oludewa Oritsedunmi (Financial Secretary), among others.