Senate President, Dr. Abubakar Bukola Saraki, has said that the recent amendments to the electoral law and the other improvements it would add to it before the next general election come 2019, when assented to, will eliminate rigging, violence and other malpractices that often take place during election periods.
Senator Saraki also said that the amendment will improve the electoral process and make it conform to international best practices especially in the area of transmission of election results after voting is done.
Saraki who, while receiving a delegation of Safran IS, an international biometric and identity management company, that visited him in Abuja, gave the assurance in a statement through his Special Assistant on Public Affairs, Mohammed Isa.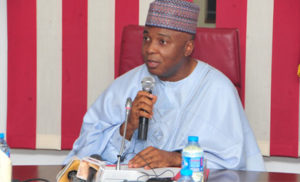 According to him, "I believe the amendments will strengthen our electoral processes, particularly at the transmission of results to the various stages of collation.
"We make a lot of progress with the introduction of the Card Reader during the 2015 general elections and it is our commitment and determination to improve on that during subsequent elections.
The Senate President also said that, "One of the things that I think is the big issue during election is in the area of transmission of results, and it has been something that we need to improve on and we need to get that done before 2019.
"I am confident that if we can get the electronic transmission right, we will begin to have an election process that can compete with what obtains in any other part of the world.
"We want a situation that as soon as results are announced at polling units, we should be able to receive them across board. I think when we are able to do that, the challenge associate with physical result transmission would be a thing of the past," he said.
Saraki further expressed the readiness of the Senate to partner with any organization that could provide the right solutions, and requested Safran to collaborate with the Independent National Electoral Commission (INEC) and support their initiative.
Earlier, the leader of the delegation, Ms Jessica Van Meeteren explained that based on its experiences and successes in similar jobs in other countries, Safran IS possess the required technology and technical know-how to provide Nigeria with the solutions.
Meeteren said the company had undertook similar jobs in countries such as Côte d'Ivoire, India, Chile among others.