By Abdulwahab Abdulah & Jane Echewedo
Lagos—No fewer than 66 inmates of the Kirikiri Medium Prisons, Lagos, yesterday, breathed an air of freedom as the Chief Judge of Lagos State, Justice Oluwafunmilayo Atilade, ordered their release.
Atilade gave the order during a visit to the prison as part of efforts to facilitate administration of justice in the state and reduce overcrowding in the facility.
The prison which currently accommodates 3,326 inmates, has 2, 789 awaiting trial, while 537 have so far been convicted.
Initially, 35 inmates were scheduled to be granted amnesty, but the figure rose to 66 after the prison authorities had appealed to the chief judge to free 31 additional inmates.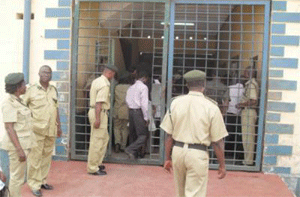 More than 72 inmates have been released in the last three years by the chief judge.
Atilade said: "You are hereby released from custody this ninth day of May 2017; you are enjoined to go and sin no more.
"Our visit to the Kirikiri Medium Prisons is to ensure a reduction in the number of the awaiting trial inmates and make sure that cases are dispensed judiciously and within the permissible time frame.
"The purpose is also to ensure that the prisoners will still be useful to the society.
"I hope that they have learnt substantially from their previous mistakes as they are granted amnesty today and re-integrated into the society."
"I also hope they will not do anything that will bring them back to prison."
Atilade also thanked the Prison Decongestion Committee, Office of the Public Defender (OPD), the Nigerian Bar Association and some NGOs for their efforts in making the exercise a success.
Earlier in his address of welcome, the Deputy Controller of Prisons, Mr   Yomi Oluwaniyi, the officer in charge of the facility, thanked the chief judge and her team for the visit.
Oluwaniyi again listed the challenges facing the prison including inadequate accommodation and poor healthcare for the inmates.
"In view of the rising population of the inmates, the prison which had initial capacity of 1,700 is currently overpopulated.
"By reason of this overpopulation, the facilities and resources of this prison are seriously overstretched and we are trying to manage them," he said.
He said that two additional buildings were required in the prison to accommodate the inmates.
Oluwaniyi called for more medical facilities and two prison vans (Black Maria) to convey inmates to courts.