By Sebastine Obasi, reporting from Houston, Texas
Despite  priding itself to have reduced gas flaring by 26 percent in the last 10 years, Nigeria is said to have lost $850 million to gas flaring in 2015, the Department of Petroleum Resources, DPR, has stated.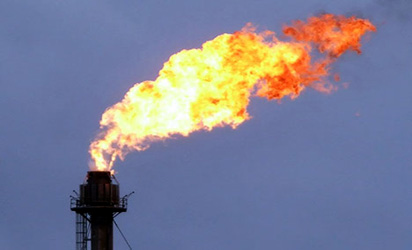 Deputy Director and Head Upstream, DPR, Mrs. Pat Maseli, who stated this at the 10th  annual Sub-Saharan Africa Oil and Gas Conference in Houston Texas, US, said that 3,500 megawatts of electricity was also lost as a result of gas flaring.
According to Maseli, no fewer than 55 million barrels of oil equivalent (BOE) was also lost, while 25 million tons of carbon dioxide was emitted within the period under review.
"Though the country is recording decline, the scale of gas flaring is still worrisome," she said. Giving account of efforts made by DPR to maximize the use of gas in the country, Maseli explained that the regulator has developed policies on gas terms and utilization which had been passed to operators for their input before onward dispatch to the National Assembly for passage.
On the Gas Mater Plan, she explained  that it seeks to deliver gas to commercial sub-sector for use as fuel, captive power and related end-use, so as to consolidate Nigeria's position and market share in high value export market.
"The master plan will create regional hub for gas-based industries such as fertilizer, petrochemical and methanol. It will transform gas sector to value adding sector in a bid to consolidate Nigeria's position and market share in high value export markets," she said.
According to her, compliance to the 2008-2013 Domestic Gas Supply Obligation, DGSO, was about 23 percent, while that of 2016 and 2017 were at 38.18 percent   and   40 percent, respectively.