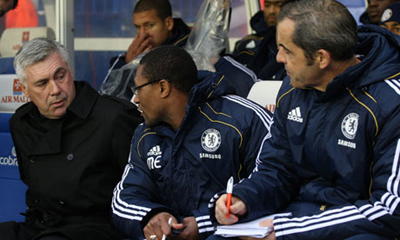 Caption :Chelsea manager, Carlo Ancelotti, sitting next to the new assistant first-team coach he did not choose, Michael Emenalo, at St Andrew's on Saturday.
One of  Chelsea's finest seasons is not even over, yet the club's fans are talking excitedly about who they will sign during the summer.
With the Champions League to contend with next term, a list of appropriate targets has already been drawn up and the club intend to spend heavily on up to six players to build on their Premier League triumph.
It has been a regular source of debate over who is in charge of recruitment at Stamford Bridge but when things do not go to plan, technical director Michael Emenalo is often portrayed, on social media at least, as the bad guy.
In October, the former Nigeria international will celebrate 10 years at the club. He has been employed in his current role for six of them
Eight major trophies for the first team have been collected since he arrived at the club in 2007, while Chelsea's academy is now comfortably the most successful in the country.
Emenalo has played a part in that success and yet remains an unpopular figure. There is a suspicion among a section of the fanbase that he carries the greatest influence on transfers but has invested badly the owner's millions in the past.
The 51-year-old Emenalo obviously has a major role but so does coach Antonio Conte, director Marina Granovskaia and owner Roman   Abramovich. Why and how a particular player is signed can vary but all four will have a say on the matter.
Conte, as he did when interviewed for the job last year, will have a list of players he wants but also be consulted on names the club have drawn up. That is how things played out under Andre Villas-Boas, for example. His request on arrival for Juan Mata and Raul Meireles were granted in the summer of 2011 but the club also sealed deals, which he was aware of, for long-term targets Thibaut Courtois and Romelu Lukaku.
Emenalo, who has set up an effective scouting network which also looks at young talent for the club's academy, does make player recommendations.
Granovskaia has overall responsibility for player transfers — the negotiation process, in particular — and is often alerted by agents of players to watch. The final say on a deal is still with Abramovich, though.
The common consensus is Conte's input, and that of his predecessors, has been minimal. Indeed, many reports have said the Italian will demand greater influence on who will be brought into the club as part of negotiations over a contract extension.
Yet, sources close to him maintain that is not the situation. They say he is happy with the set-up.
Conte speaks to Emenalo on a daily basis and they have a positive working relationship. He is in regular contact with Granovskaia, too. Should Conte not be able to communicate with Abramovich in person, messages can be passed on to him via Emenalo and Granovskaia
Fundamentally, transfers come   down to a series of questions: Is the transfer needed? Will the player improve the team? Is he affordable?
Given Emenalo was the man mainly responsible for Lukaku's arrival from Anderlecht in 2011, it is understandable he would suggest the forward be brought back from Everton during the close season. Conte is known to be an admirer of Lukaku, too, even though his first choice appeared to be Real Madrid striker Alvaro Morata.
As Conte has shown in his first season in English football, his priority is to have players with the right attitude.
No matter how much money Chelsea end up spending during the summer, Conte and the transfer committee are confident this successful campaign will not be a one-off.